It's the weeeeeeeeeeeekend!!! And it's filled to the brim with exciting birthday parties, street fighter, ninja training, pancakes and a whole lot of breaking bad. Aren't I exciting? Yeah... no not so much. But regardless this is the calm before the storm since next weekend Los Angeles will be playing host to none other than the
LA Food & Wine festiva
l (aka my Christmas!) There are still tickets available to all the exciting events like the Night Market & Cookout at the Beach so be sure to check out their website in case your hankering for a ton of delicious bites, celebrity chefs and gallons of wine!
But enough about me, what are you all doing this weekend?? I want to hear all about your weekend plans too! Leave em in the comments below :). And as always... if you want to connect, you can follow me on twitter
@nicolemiizuka
or find me on
Facebook
!
Combo Attack: 25 Years of Street Fighter @ iam8bit
Opening Night 7pm - 11pm
With tournaments and collector's items galore, you'd think Capcom was nearing the end of their special announcements commemorating Street Fighter's 25th anniversary, but they'e only just begun. Earlier today, they revealed their plans to present a collaborative art exhibition with the iam8bit collective that will showcase a variety of unique Street Fighter inspired artwork in their Los Angeles gallery from August 3rd to August 19th. As with any event of this magnitude, this event will kick off with a massive launch party that features a few one-night only events, including a real life "bonus round" that pays homage to a classic Street Fighter II scene. Combo Attack: 25 Years of Street Fighter will feature contributions from over fifty artists, so be sure to check it out if you'll be in the area.
iam8bit 2147 Sunset Blvd.
http://iam8bit.com/the-gallery/combo-attack/
Bacon & Bubbly Tasting
5pm - Midnight
Come experience the mystical bond between top shelf sparkling wine and the glorious meat candy known as artisanal Bacon at Wine Expo. They're serving up Maplewood Smoked Cinnamon Bacon, Boss Hog Honey BBQ Rubbed Bacon, Hog Heaven Peppered Country Bacon, Bac'n Tastes Good Sun Dried Tomato Bacon and Lola's Chipotle Bacon which will be served with assorted cheeses, nuts and their famous Orgasmo de la Boca smoked olives. They will pair each plate up with generous pours of five quite diverse examples of VERY fine fizz. Tickets are $48.
Wine Expo 2933 Santa Monica Boulevard Santa Monica, CA 90404
http://www.wineexpo.com
Cointreau Summer Poolside Soirees
6:00pm - 8:00pm
Neighbors and friends of the Beverly Hills Hotel are invited to our historic pool every Friday evening (July 13 – August 24) from 6:00pm to 8:00pm for a series of "Cointreau Poolside Soirees!" Each chic soiree will feature the Cointreau bar cart service, signature cocktails from the 100th Anniversary menu and special live performances by the AQUALILLIES. The seven week series will benefit Project Angel Food, a charitable organization that cooks and delivers free nutritious meals to men, women and children affected by life-threatening illnesses. Free entertainment, free admission, cash bar and food available for purchase. All proceeds from our series benefit Project Angel Food.
9641 Sunset Boulevard Beverly Hills Los Angeles CA 90210
http://www.beverlyhillshotel.com/SummerPoolSeries
Saturday, August 4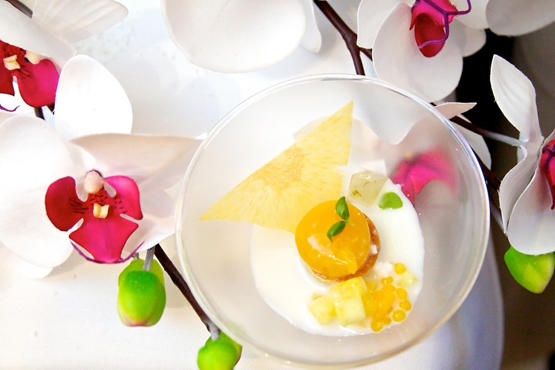 LUCKYRICE Night Market
7pm - 10pm
Join us as we debut the original LUCKYRICE Night Market in the City of Angels! Inspired by the ubiquitous night markets across Asia from Taipei to Kuala Lumpur, the LUCKYRICE Night Market recreates the celebratory chaos and delicious energy of the quintessential night market experience – but re-imagined through a locally global lens that spotlights LA's exploding Asian food revolution. Presided over by the inimitable Sang Yoon (Father's Office and Lukshon), we have gathered LA's brightest rising star chef talents together with internationally acclaimed celeb chefs to serve up interpretative as well as genuine Asian street food. Along with a dozen participating chefs, our bars will also be overflowing with 16 (yep, 16!) custom Asian-styled cocktails perfected by 8 of LA's most creative mixologists plus specialty ginger ales and sakes. All of this takes place at the whimsically theatrical open-loft warehouse within H.D. Buttercup at the Helms Bakery Building in Culver City decorated with Chinese boudoirs, glamorous chandeliers and fanciful pagodas. To the mix, add some seductive DJs, fun tunes and sparkling personalities (forgive the name dropping, but expect to rub shoulders with our special guests including Lisa Ling and James Murphy). Part Asian Night Market, part cocktail extravaganza, LUCKYRICE is a multi-sensory culinary experience that brings together the authentic flavors of Asia with the uber-cool sensibility of SoCal – a moment where intoxicating sights and flavors collide with style and culture.
Helms Bakery Building 3225 Helms Avenue Los Angeles, CA 90034
http://www.luckyrice.com/home/luckyrice-night-market-los-angeles/
10th Annual Los Angeles Plate by Plate
7pm - 10pm
Join us on Saturday, August 4th, 2012 for Los Angeles' 10th Annual Plate by Plate Tasting Benefit, celebrating Project by Project's 15 year anniversary! Over forty of Southern California's top chefs and mixologists will unite for an evening of great food and drinks at the breathtaking Vibiana Cathedral in Downtown Los Angeles. This year's event will present the best of SoCal's culinary culture with delicious tastings from our amazing participants, a silent auction, music entertainment and a Cooking Demo sponsored by AFC featuring Nyesha Arrington, Executive Chef at Wilshire Restuarant! For the first time in PbP history, a mixology challenge will also be hosted! Mixologists Devon Espinosa (ink restaurant, Pour Vous), Gia St. George (City Tavern), and Chris Hewes (Roosevelt Hotel - Library Bar) will duel it out with their best cocktail creations of the night! Appearances from renowned chefs Michael Cimarusti (of Providence) and Walter Mankze will also be happening. Don't miss out on the ultimate, foodie evening of the summer!
Vibiana Cathedral | 214 South Main St | Los Angeles CA 90012
http://www.platebyplate.org/la/
LA Taco Festival
12pm - 8pm
Held in the heart of Boyle Heights, the LA Taco Festival brings together the community, musicians professional artists, food vendors, businesses and Angelinos of all kinds. Try some of the tastiest taco vendors that Boyle Heights and East LA have to offer. Grub on tacos from La Barca Grill & Cantina, Candela Taco Bar & Lounge, Daniel's Tacos, El Tepeyac Café, Pinches Tacos, Ricos Tacos and Tacos El Gallito. Not to mention the numerous local taco vendors within walking distance. This event is free, but bring some cash for lots of tacos. You can also take the Metro Gold Line right to Mariachi Plaza, ándale!
Mariachi Plaza / 1 Street and Boyle Ave., Los Angeles, CA 90033
http://www.latacofestival.com/
Saturday Screenings!
Street Food Cinema
: Bridesmaids
Eat|See|Hear Presents
: Purple Rain
Oscars Outdoors
: Steamboat Bill Jr.
Cemetary Screenings
: Sunset Boulevard
Sunday, 8/5
2nd Annual Pancake Breakfast
11am - 2pm
A reminder that you possibly have something to do on Sunday, August 5, from around 11 a.m. to 2 p.m. That is, if your idea of fun is hanging out in a gorgeous deconsecrated church and eating what some of the city's best chefs feel like cooking you for breakfast. LA Weekly's second annual Pancake Breakfast is fast approaching. And in addition to the restaurants you already knew about (Salt's Cure, Handsome Coffee, Langer's, The Nickel Diner, Euro Pane, etc.), there are also a few more coming. Gottsui will be bringing Angus beef okonomiyaki and beef curry pancakes. Gary Menes' pop-up Le Comptoir will be serving sourdough blini with corn and smoked onions. Canele will have pork belly bánh mì. And Cafecito Organico will be bringing, well, what you'd think they'd be bringing: lots of terrific coffee. And if caffeine isn't your thing, there will be an open bar serving lots of incomprehensibly lovely things (Sino Tequila Sunrises, Bloody Marias, Kinky Liqueur Mimosas, etc.). What else? BigStarBQ will play a short set, and you can preserve the moment for posterity in a photo booth. Still life with pancake, if you will.
Vibiana 214 S. Main St., Los Angeles, CA
http://blogs.laweekly.com/squidink/2012/07/pancake_breakfast_update.php
Pigout 1.0
12pm - 4pm
On Sunday, August 5th, 2012, Bobby Navarro of 100eats100days.com and Chef Amar Santana of Broadway in Laguna Beach will be paving the way of culture and class with this inaugural pig-centric social. Fifteen of the best chefs in Orange County will be coming together to celebrate the "blessings of the swine" and help those in the culinary industry achieve their dreams. This will be the first event of its kind in Orange County, combining culinary creative with craft cocktails in the same forum. FOR ONE ALL INCLUSIVE TICKET PRICE you will be savoring variations of pig, opportunities to donate through raffles and silent auction, live music presented by the Nate Williams Band, signature cocktails from the craft bartenders of Orange County, and the stellar sights and sounds of the Newport Dunes Resort. Presale tickets are $75, and can be purchased through noon on Friday. Then tickets at the door are available for $90. They also have VIP tickets available for $100 and include an hour early entry.
Newport Dunes Resort 101 N. Bayside Dr. Newport Beach, CA 92660
http://100eats100days.com/store/pigout/
Monday, 8/6
Spirits of the Times: Artisanal Spirits
6:30pm - 9:30pm
One of the most exciting events of the last decade is the rise of the craft-distillery movement. Around the world, new artisanal brands have opened up by the dozens and are now producing some pioneering and tasty liquor. But you don't have to take our word for it. For just $20, you can sample a range of craft bottlings, including Karlsson's Gold Vodka, Pink Pigeon Rum and Lepanto Brandy, at the Spirits of the Times: Artisanal Spirits tasting we're co-hosting at Hollywood hotspot Sadie on Monday, August 6. Plus, there will be an open bar serving delicious cocktails, and you'll get to vote for the night's top drink. That's not to mention the selection of gourmet appetizers. Buy your tickets now for this exclusive event, and we'll see you at Sadie. Tickets are $20
Sadie 1638 North Las Palmas Avenue(@ Hollywood)
http://liquor.com/experiences/spirits-of-the-times-artisanal-spirits/