For the few of you who aren't already on trains headed down to San Diego for the weekend, there are some awesome events going on in the city this weekend. Sadly for me, I'll be missing the Bon Appetit Grub Crawl and $2 oysters. Le sigh... but then again I did just buy an impromptu ticket to New York so I can certainly nom on some Maison Premiere Oysters next week. Don't worry, I'll post photos to make you all extremely jealous.
But enough about me, what are you all doing this weekend?? I want to hear all about your weekend plans too! Leave em in the comments below :). And as always... if you want to connect, you can follow me on twitter
@nicolemiizuka
or find me on
Facebook
!
All Weekend
Bon Appetit Grub Crawl
July 13th - 15th
Bon Appétit Grub Crawl takes you on an interactive food tour at the intersection of fame, fortune, and flavor. Savor food and drink up-close, hang with the most influential chefs, get your hands dirty, roll up your sleeves, and go behind the scenes of the kitchen—with the chefs—to see where the magic happens. If that's not enough, on Saturday it culminates in can't-miss music performances hotter than a starlet on Rodeo Drive. Totally my type of crawl tickets range from $29 - $199.
bagrubcrawl.com/losangeles
Venice Boardwalk Biennial and ForYourArt
July 13th - 15th
In conjunction with
Made in L.A. 2012
, the
Venice Beach Biennial
, organized by Hammer curator Ali Subotnick, is a tongue-in-cheek reference to the 'real' Venice Biennale in Italy and will take place July 13-15 on the Venice Beach boardwalk. This outdoor exhibition will see somewhere between 30 and 40 participating artists set up vending stands alongside the boardwalk's usual vendors and present new bodies of work, displaying site-specific sculptures and installations, presenting live performances and even collaborating with the boardwalk's veteran artists.
The Venice Beach Biennial will take place along Ocean Front Walk between 19th Avenue and Rose Avenue. Ocean Front Walk is a pedestrian Boardwalk located parallel to the ocean.
http://hammer.ucla.edu/programs/detail/program_id/1261
UniqueLA Summer Show
July 14th & 15th
The largest independent design show in the country, attendees get the rare chance to meet and shop directly from over 325 hand-selected designers and artists. The exciting two-day shopping event makes it easy for you to buy local and support LA's economy, discover great design and deals, join in community, and have a blast. The products at the show are proudly made right here in the USA so you're putting your dollars right back into our economy and local community! With fun for everyone plan to spend the day with us…
The Barker Hanger in Santa Monica
http://stateofunique.com/unique-la/
Roy Choi's All-You-Can-Eat-Fried-Chicken at A-Frame
Saturday & Sunday 12pm - 3pm
This weekend kicks off Roy Choi's weekly fried chicken gorge fest where, for $18, you get all the fried legs and thighs sous vide in spices, herbs, chilies that you can possibly eat. Price also includes sweet potato salad and coleslaw. AND if you'd like a bottomless mug of Hite to wash that down, it's just $10. Every Saturday and Sunday, 12-3pm.
A-Frame, 12565 Washington Boulevard, Los Angeles
http://aframela.com/new/
Saturday, 7/14
Taste Culver City
6:30pm - 10pm
Taste Culver City. Make Peace. Sample cuisine from Culver City's best eateries while listening to great live music from Rosendo, The Jane Doe's and Grace Gravity. View stunning artwork from Fred Feldmesser, Graham Goddard, Joan Scheibel and Ashleigh Sumner. Event includes wine, plus tastings from: Culver Hotel K-Zo Grand Casino La Rocca's Kay and Daves Novecento Kebab Bistro Rush Street and more. Tickets are $50 in advance $60 at the door MUSIC By: 6:30pm - 7:30pm Grace Gravity 7:45pm - 8:45pm The Jane Doe's 9pm - 10pm Rosendo.
The Whole 9 Gallery 3830 Main Street, Culver City, CA 90232
http://www.thewhole9.com/taste
Grease Sing-a-long @ Hollywood Bowl
7:00pm Pre-show. 8:30pm Film
Now a new tradition, the fun-filled Grease Sing-A-Long features pre-show festivities and the beloved film projected on the Bowl's giant screen. Grease is the word! Before the beloved film is projected on the Bowl's giant screen, join the fun with a pre-show dance, and strut your stuff in a revamped, all-new costume competition. Who doesn't love a wonderful BYO evening at the bowl?
2301 North Highland Avenue Los Angeles, California 90068
www.hollywoodbowl.com
The 15th Annual Wienerschnitzel Wiener Nationals
6:15pm
The 15th Annual Wiener Nationals hosted by Wienerschnitzel is a 50-yard dachshund sprint to the finish line. The annual dachsund race is the most highly attended evening each year at the Los Alamitos Race Course. The event begins with a pre-trial heat at 6:15pm. The winner from each trial will advance to the final race at 9:30pm. Proceeds from the event will benefit the Seal Beach Animal Care Center, a non-profit group dedicated to finding homes for stray animals in Orange County. The Wiener Nationals is the shelter's biggest fundraiser. Admission to the Wiener Nationals is included with a $3 general admission ticket to the race course. Admission is free for attendees 17 years old and under. There is no charge for general parking.
The Los Alamitos Race Course is located at 4961 Katella Ave. in Los Alamitos.
http://losalamitos.com/
Oyster Fest at Bouchon
July 14th
Bastille Day. It's a very important holiday. For lots of reasons. But this is one we can certainly get behind! Who doesn't love cheap oysters, and in lieu of flying to New York and camping out at Maison Premiere for happy hour, this is a close second. $2 oysters available all day long and anywhere in the Bouchon family of restaurants.
Bouchon Bistro, 235 N Canon Dr, Beverly Hills
www.bouchonbistro.com
Saturday Screenings!
Street Food Cinema: The Lost Boys
Eat|See|Hear Presents: Pee-Wee's Big Adventure
Oscars Outdoors: The Princess Bride
Cemetary Screenings: Hairspray
Sunday, July 15
Bastille Day Los Angeles Festival
12pm - 8pm
Bastille Day is the French national holiday that celebrates independence and freedom and commemorates the storming of the Bastille prison on July 14, 1789. Angelinos can join in the celebration of Bastille Day at the Kenneth Hahn state recreation center. Entertainment includes a real Pétanque Tournament under the pine trees, a Parisian Waiters' Race, street performers, comedians, singers, artists, a unique French Arts and Crafts Fair, and of course, french food, wines and gastronomic delights. Tickets are $5, limited reserve parking is available for $10.
Kenneth Hahn State Recreational Area 4100 South La Cienaga Boulevard Los Angeles, CA
http://www.bastilledaylosangeles.com/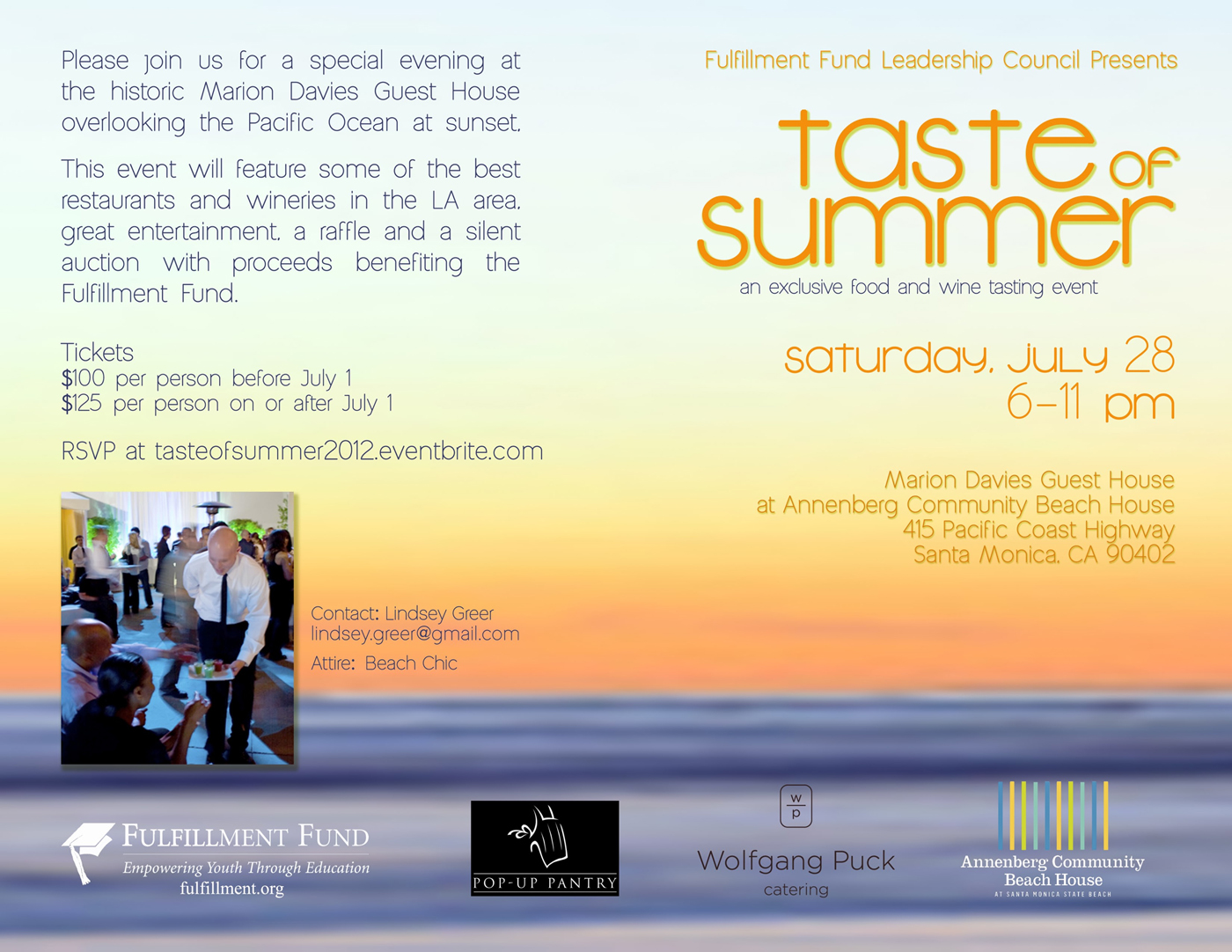 Heads Up: Saturday, 7/28
Taste of Summer for the Fulfillment Fund
6pm - 11pm
I work with a charity organization called the
Fulfillment
Fund which provides first-generation, low-income students with the support necessary to graduate from high school and go on to college. Through classroom instruction, college counseling, mentoring and scholarships, we transform the lives of students, beginning in high school and extending through college graduation. We're throwing out first ever Food & Wine fundraiser a the end of July and I would love to extend an invitation! Taste of Summer is shaping up to be a great event! We already have some great sponsors on board like Wolfgang Puck Catering, Pop-Up Pantry, Strand House, Rock'n Fish, Singha Beer and Anheuser-Busch. All proceeds will benefit the
Fulfillment
Fund.
Marion Davis Guesthouse @ Annenberg Community Beach House 415 Pacific Coast Highway.
http://tasteofsummer2012.eventbrite.com
/