Oh HEY LA! After my fairly insane NY weekend, I decided to keep it nice and chill this time around... just a little comedy (*cough*
Nearlywed Show
*cough*), pole dancing with
Living Social Adventures
& checking out
Chef Ricardo Zarate's new Mo-Chica
new downtown digs. Easy, right?
But enough about me, what are you all doing this weekend?? I want to hear all about your weekend plans too! Leave em in the comments below :). And as always... if you want to connect, you can follow me on twitter
@nicolemiizuka
or find me on
Facebook
!
All Weekend
The Silver Lake Jubilee
Saturday & Sunday @ 12PM
The third annual Jubilee street festival, LA's premier music, arts and food festival, will be held in Silver Lake on Memorial Day Weekend—May 26–27, 2012—at the Sunset Junction (Santa Monica Blvd. and Sunset Blvd.). The Jubilee features the city's best selection of bands, comedy, literature, artists, food trucks and shopping and encourages a lifelong engagement with the arts to all its visitors. The 2012 Jubilee will feature 60+ bands, 15+ food trucks, 40+ craft vendors, 40+ comedians and performers, as well as beer, wine and mixed drinks. There will also be a free community block party! Come celebrate the arts with the Jubilee! Tickets range from $20 to $35 for single and two-day passes.
4219 Santa Monica Blvd., Silver Lake
www.jubilee.is
Rooftop Weekend Barbecue Kicks Off at The Peninsula
Saturday & Sunday 5pm - 9pm
Kick off your weekend with a gorgeous view of L.A. and a gourmet barbecue. The Roof Garden at the Peninsula Beverly Hills will be 'cuing every Saturday and Sunday from now through the end of summer (September 2). Plant your canines into the likes of free-range chicken breast with cilantro and mint chimichurri and 16-ounce rib eye steak. Prices range from $24 to $45 and include a choice of two sides.
The Roof Garden at the Peninsula, 9882 S Santa Monica Boulevard, Beverly Hills
http://www.peninsula.com/Beverly_Hills
The Nearlywed Show @ iO West
8PM
I know you all have heard me labor on and on about this awesome duo, but the cocktail queens themselves
Alie & Georgia
are competing tonight! The game that pits a Married Couple vs. a Dating Couple vs. a Platonic Couple(of friends) in an old fashioned battle of who knows who best. Since this isn't the 70's and Sherry Shepard is busy eating Cheetos this updated version is different than any other you've ever seen. Come and cheer for your favorite couple or just sit back and enjoy this updated classic TV show as it happens live in front of your eyes. Hosted by Colin Hughes, Blake Hogue, Georgia Hardstark. $10 well spent.
iO West 6366 Hollywood Blvd. in Hollywood
http://ioimprov.com/west/io/shows/the-nearlywed-show
Barnsdall Wine Tasting Fridays
5:30pm - 8:30pm
This is really a fantastic way to kick off the weekend. Unwind and enjoy the beautiful Barnsdall Art Park as the sun is setting, from the gated gardens in the West Lawn of the historic Hollyhock House. Silverlake Wine will present four selections of boutique, small production, artisanal wines from around the globe. This week will feature DJ Dan Wilcox of KCRW and delicious food from Heirloom LA, Let's Be Frank, Gastrobus and Coolhaus. Tickets are $25, or $5 for kids and designated drivers. They also provide tours of the historic Hollyhock House!
Barnsdall Art Park
4800 Hollywood Boulevard, Los Angeles, CA 90027
http://www.barnsdall.org/events-2/wine-tastings/
A Drink-Along Tarantino Double Feature
Doors 7pm | Showtime 8pm
I mean, who doesn't love the Downtown Independent? Especially when they put together awesome events like this one... a cocktail-friendly double feature of Reservoir Dogs followed by Natural Born Killers? The first drink is included with the ticket price, and a cash bar stays open during the whole showtime! Right? Awesome? Plus Shots every time someone swears... oh wait, then they'd have to provide hospital service as well. Anyway for all of you QT fans out there, this is an event not to be missed! $10,
Downtown Independent, 251 S Main St.
http://www.downtownindependent.com/events/reservoir-dogs-natural-born-killers-double-feature-drink-along
Saturday, 5/26
Street Food Cinema | Napoleon Dynamite
5:30pm - 11pm
I love when the summer season starts gearing up with a ton of great movie screenings all over town. And this one is fast turning into a classic LA summer staple. Dinner and a Movie This season of Street Food Cinema will kick off with a screening of the cult comedy Napoleon Dynamite. A selection of the city's most popular food trucks will be on hand, including Kogi BBQ and Grill 'Em All, so no baskets are required for this summer picnic. Bring a blanket, the family, the dog, and a picnic. Outside food and beverages are welcome. Tickets ($5-$15)
Exposition Park, 700 Exposition Park Dr., at S. Figueroa St., South Los Angeles.
http://www.streetfoodcinema.com/home.html
Board Games + Cocktails = Everyone Wins
3pm - 5pm
You can't really socialize online and you can't really get the experience of playing board games on your phone. So come on over to play the old fashioned way! Pick from a huge variety, ranging from the ones we all know and love to some you've never tried! Whether you're planning a fun get-together with friends or just hoping to meet fellow fun-lovers, this is one of the most genuine ways to hang out. Oh and of course, the winners will take home a prize. But come on... amazing view of Downtown, games, friends, tasty beverages? We're all winners here. $10
312 W. 5th St, Downtown LA, CA 90013
https://www.lifecrowd.com/activity/board-games-cocktails-everyone-wins-4
Eat|See|Hear Presents: Anchorman
Gates 5:30pm, Music 7pm, Showtime 8:30PM
For the westsiders, you also have your own outdoor cinema event. Complete with live music and food trucks. Food trucks include Fatmobile, Me So Hungry, The Greasy Wiener, Fresh Fries, White Rabbit, Shrimp Pimp, Nom Nom Truck, Flatiron, The Lime Truck, Buttermilk, and Coolhaus. Doors open at 5:30, live music by The Islands at 7pm, and the movie starts at 8:30 sharp. Tickets are $10.
Memorial Greek Amphitheater @ Santa Monica High School - 600 Olympic Blvd - Santa Monica
www.eatseehear.com
Cinespia Screening: Sabrina Starring Audrey Hepburn
Gates 7pm, Movie 8:30pm
From the director of Some Like it Hot comes this classic modern fairy tale and romantic comedy. Audrey Hepburn stars as the lovely chauffeur's daughter in a rich home, who dreams of marrying the playboy son of the family. He doesn't take notice, until Sabrina spends a year in Paris, and transforms from just a girl into an elegant beauty. Audrey is at her most glamorous in a stunning array of costumes designed by Givenchy. DJ David Holmes spins before and after the screening Gates open 7pm, movie 8:30pm. Tickets: $10.
Hollywood Forever, 6000 Santa Monica Boulevard, Los Angeles
http://www.cinespia.org/calendar
Degenerate Prom & WTF Art Show
8pm
Prom Season: For many, this time of year evokes memories of girls in gowns, glittering crowns and secret under-bleacher liaisons. It stirs nostalgia for the salad days of High School and brings back the blush of the first brush with the world of solid citizenry. But for many others, Prom is a less than savory reminder of the Hell endured during the lean, teen years and pushes us not into our prom gowns for a dance with our dream dates but into the corner in the fetal position to shake and puke. Which is why The Department Against Degenerate Art has decided to RECLAIM PROM AND PUNCH IT'S LIGHTS OUT. Imagine a prom that might have left the popular kids crying in a corner! A prom decorated not with idiotic balloons and crepe paper, but with THE STRANGEST ART WORK YOU HAVE EVER SEEN. A prom to which wearing a gas mask, a unicorn costume, full drag or King Diamond face paint would not only be acceptable but ENCOURAGED. If this sounds like a prom you might actually have attended, then WE WANT YOU. Free Degenerate art packed grab bags to the first 50 attendees! $5
The Mezz Bar 501 S. Spring St. 2nd fl., Los Angeles, CA 90013
https://www.facebook.com/events/344871232239382/
Sunday, 5/27
The 26th Annual JazzReggae Festival
Sunday, 5/27 & Monday, 5/28 11 a.m. to 7 p.m.
The 26th Annual JazzReggae Festival will take over UCLA this weekend with two days of performances from notable artists, including Booker T. Jones and The Roots. The outdoor festival will also feature a craft bazaar and a large selection of food vendors serving everything from soul food to Belizean cuisine. They also have a bike valet in case you don't feel like fighting the traffic all weekend! Tickets range from $35 - $65
405 Hilgard Ave., Westwood;
www.jazzreggaefest.com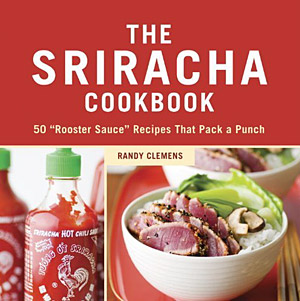 Tony's Darts Away's Books and Brews: The Sriracha Cookbook Author Randy Clemens
6pm - 9pm
Tony's Darts Away will begin hosting Books & Brews sessions on select Sunday evenings. These casual sessions will feature regional authors that we feel share similar goals & ideals when it comes to enjoying quality food & beverage. Each month's featured author is hand-picked by Chef Randal St. Clair, who will be surrendering his kitchen to their creativity all day long. In addition to preparing a selection of our guest's dishes as our daily specials, Chef Randy will integrate smaller bites, samples, sides and custom sauces into our regular menu for the day. For our first event on May 27, we welcome cookbook author and trained chef Randy Clemens, who will be present to talk to guests about The Sriracha Cookbook. From 6 - 9 PM, Randy will be hanging out at TDA to sign and sell books, and to chat cooking, beer, Sriracha, and maybe a little veganism and barefoot running if you're lucky! Dishes to be featured include Sriracha pulled pork sliders, Sriracha potato salad, samples of Sriracha deviled eggs and plenty of Sriracha inspired condiments all day long. Since nothing beats a good beer pairing, our team will be working with Randy to provide beer pairing suggestions from our 30+ taps to go with these specials.
Tony's Darts Away, 1710 W Magnolia Boulevard, Burbank
http://www.facebook.com/tonysda