There's a ton of fun things going on in LA this weekend! Too bad I'm in New York & won't be able to attend any of them (Yeah I know you guys just feel SO SORRY for me...)
So just to make you a little jealous, my weekend's consisting of a 16 course preview at the brand spanking new
Mission Chinese Food
, cocktails at the opening night of
Demi Monde
, some event that I'm still having a hard time saying without giggling but still sounds awesome...
The Great Googa Mooga Festival
, and I'm finishing off my weekend with a glutinous day of
Ippudo Ramen
,
Maison Premiere Oyster Bar
Happy Hour &
Shake Shack
.
What about you guys?
I want to hear all about your weekend plans too! Leave em in the comments below :). And as always... if you want to connect, you can follow me on twitter
@nicolemiizuka
or find me on
Facebook
!
All Weekend
Venice Art Walk Venice
times vary
Don't miss the all NEW Venice Art Walk & Auctions hosted by Google Los Angeles. Enjoy their curated silent art auction, live music, taste bud tingling food trucks, family art activities and exclusive Art & Architecture tours at Venice's largest community celebration. This event is free, guided tours are available for an additional cost. All proceeds support Venice Family Clinic, providing free, quality health care to people in need.
604 Rose Avenue, Venice CA
http://theveniceartwalk.org/
California Strawberry Festival
10am to 6:30pm
Jam-packed with strawberries and all your indulgences, the 29th Annual California Strawberry Festival Celebration Saturday and Sunday, May 19, 20 in Oxnard is pure goodness with proceeds benefiting charities. Whats not to enjoy with non-stop concerts, Strawberryland For Kids with free rides and attractions, 250+ Arts & Crafts exhibits, celebrity chef demonstrations, and delicacies like strawberry pizza, deep fried strawberries, chocolate dipped strawberries and even strawberry beer. The tart toss and pie eating contests get your face in the fun that runs 10:00am to 6:30pm. On 50 acres, the Festival is among the nations top outdoor celebrations. Tickets start at $5.. Use the free park n ride shuttle to get there fast and save $10 on parking.
Strawberry Meadows of College Park 3250 South Rose Avenue Oxnard, Ca 93033, oxnard, 93033
http://www.strawberry-fest.org
Friday, 5/18
Sake Festival @ Chaya Downtown
6pm to 8pm
The super delicious Chaya Downtown is hosting its own Sake Festival showcasing more than 25 boutique sakes. Chef Atushi Kenjo is cooking up a savory selection of izakaya dishes to pair with all the booze, and at $35 / person this seems like an event worthy of checking out. They'll also have taiko drummers performing throughout the evening.
Chaya Downtown 525 South Flower Street
www.thechaya.com
An Evening with Le Cirque
all night
For one evening, the main dining room at City Club on Bunker Hill will be transformed for a unique dining experience. From the renowned menu to Le Cirque china and decor, this authentic Le Cirque-ClubCorp culinary collaboration will be an unforgettable evening. Worldwide, food experts have ranked Le Cirque among the best restaurants in the world. Under the leadership of Sirio Maccioni, the legendary Le Cirque restaurant opened its doors in 1974 in Manhattan, and has since opened restaurants in Las Vegas and the Dominican Republic, winning the coveted James Beard Award's "Restaurant of the Year" along the way. Don't miss this opportunity to taste delectable bites like lobster salad, porcini risotto and a chocolate-peanut candy bar.
An Evening with Le Cirque at City Club on Bunker Hill, 333 S Grand Ave, 54th F
l
http://www.clubcorp.com/Clubs/City-Club-on-Bunker-Hill/About-the-Club/Calendar/An-Evening-with-Le-Cirque
Echo Park Art Walk
12pm - 6pm
The Echo Park PDA (public displays of art) Art Walk is a one day event that will turn the side walks of Echo Park into a fun, playful and artistic landscape. Discover chain link fence galleries, driveway theaters, sidewalk chalk art, performance art, live music, food trucks and more. Ready for a sidewalk adventure? Explore and discover chain link fence galleries, driveway theaters, sidewalk chalk art, performance art, live music, film screenings, food trucks, sidewalk dancing, hands on workshops, sculptures, special store promotions, and other various creative & mind stimulating public displays of ART!
This even is free and takes place on Echo Park Ave at Sunset Blvd.
http://www.artneedsfreedom.com/pda/
The 21st annual Santa Monica Festival Santa Monica
11am - 6pm
The 21st annual Santa Monica Festival brings together the community while highlighting the dynamic connection between the City's businesses, arts and environment, providing ideas and solutions for a greener, healthier and more sustainable lifestyle. The festival offers something for everyone with an array of interactive activities, live music and dance, fitness and food. Admission, parking and bike valet are free. Festival highlights include performances by Dustbowl Revival, La Santa Cecilia, Lux Aeterna and Vaud & The Villains, fitness classes, eco-friendly workshops and a Santa Monica Farmers Market "Chef Challenge" cooking competition.
Clover Park, Santa Monica 2600 Ocean Park Blvd
www.smgov.net/festival
Free Range Pop-Up @ Melrose Farmer's Market
10am - 2pm
Kind of hilarious that I'm blogging about this before I've even gotten the chance to try Chef/Bartender Jesse Furman's (Red Medicine, Short Order) reportedly delicious fried chicken! That said, since I'm in NY this Sunday and missing Free Range yet again, can someone please go, eat & tweet me a picture
@nicolemiizuka
?? Just listen to this description from
dailycandy.com
: "
Using free-range poultry from Mary's Farm and eggs from Kelley's Farm (Animal and Ink are also customers), Furman whips up savory egg tarts with caramelized onions and the best fried chicken sandwich (with chopped green cabbage, cilantro, and homemade pickles and honey mustard) north of the Mason-Dixon Line. Also flying the coop: caramel slices (shortbread sable smothered in shaved coconut and caramel), granola, and Furman's famous brewed sodas (ginger ale with crystallized lavender).
" Melrose Place Farmers Market, Melrose Place, at North Croft Avenue, West Hollywood
www.freerangela.com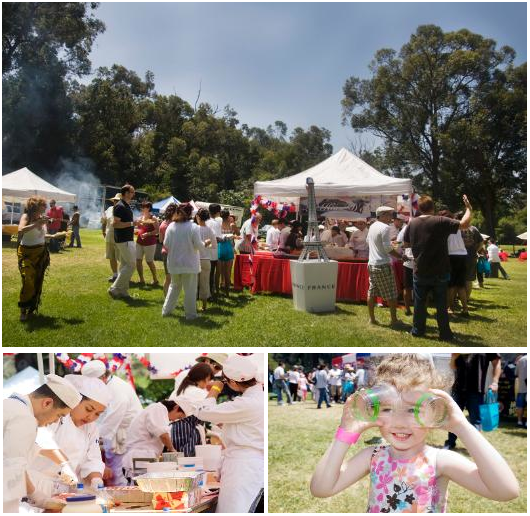 32nd Annual Picnic des Chefs
11:30am - 4pm
The Club Culinaire of French Cuisine will hold its annual Picnic des Chefs on Sunday at Vasa Park in Agoura Hills, where 4 acres of lush mountain side await you. LA's top chefs will create authentic dishes from various regions of France. Participating chefs (partial list): Marius Blin (Hotel Sofitel); Michel Blanchet (Michel Cordon Bleu); Joe Miller (Joe's Restaurant); Josie LeBalch (Josie Restaurant); Neal Fraser (BLVD); Yvan Valentin (Sweet Temptation); and Christian Kaufmann (Emil's Swiss Pastry). Chefs will cook up over 700 lb of meat, poultry and fish, 500 lb of vegetables, 200 lb of cheese and 500 baguettes, 50 artisan breads and much more. Over 50 wineries will be pouring their favorite selections. Plus with tickets starting at $60 a pop, who can say no?
Vasa Park 2854 Triunfo Canyon Road
http://www.clubculinaire.us/
The Hudson Block Party
11am - closing
The folks behind The Hudson and The Churchill are throwing another Block Party benefiting the SOVA Community Food & Resource Program. Admission to the party ranges from $10 before 2pm and $15 after, and the event will have four full bars plus tons of bites like fish tacos and grilled house-made sausages. Plus they'll have photo booths! White Rabbits and Of Montreal are among the 25 artists booked to perform. This event was a massive success last year and it'll be sure to get crowded quickly, so start your pre-game early and head there while the sun's still shining. After snagging a
Free Range Fried Chicken Sandwich
that is...
The Hudson, 1114 N. Crescent Heights, West Hollywood
www.thehudsonla.com
The Big Quiz Thing @ Busby's East
7pm Start Time
Do you possess an encyclopedic knowledge of TV series finales? Can you figure out what Sarah Palin has in common with chocolate-covered toffee? Do you know what four-letter acronym was popularized by the movie American Pie? If not, can you make people who do know laugh? If you answered yes to any of these questions, you belong at The Big Quiz Thing, the ultimate multimedia live quiz show that you get to play! And after a triumphant Los Angeles debut last year, the BQT now returns for an L.A. residency at Busby's East on Sunday, May 20, at 7:30pm with a $200 Grand Prize.
Busby's East, 5364 Wilshire Blvd
http://bigquizthing.com/press_release_la.html