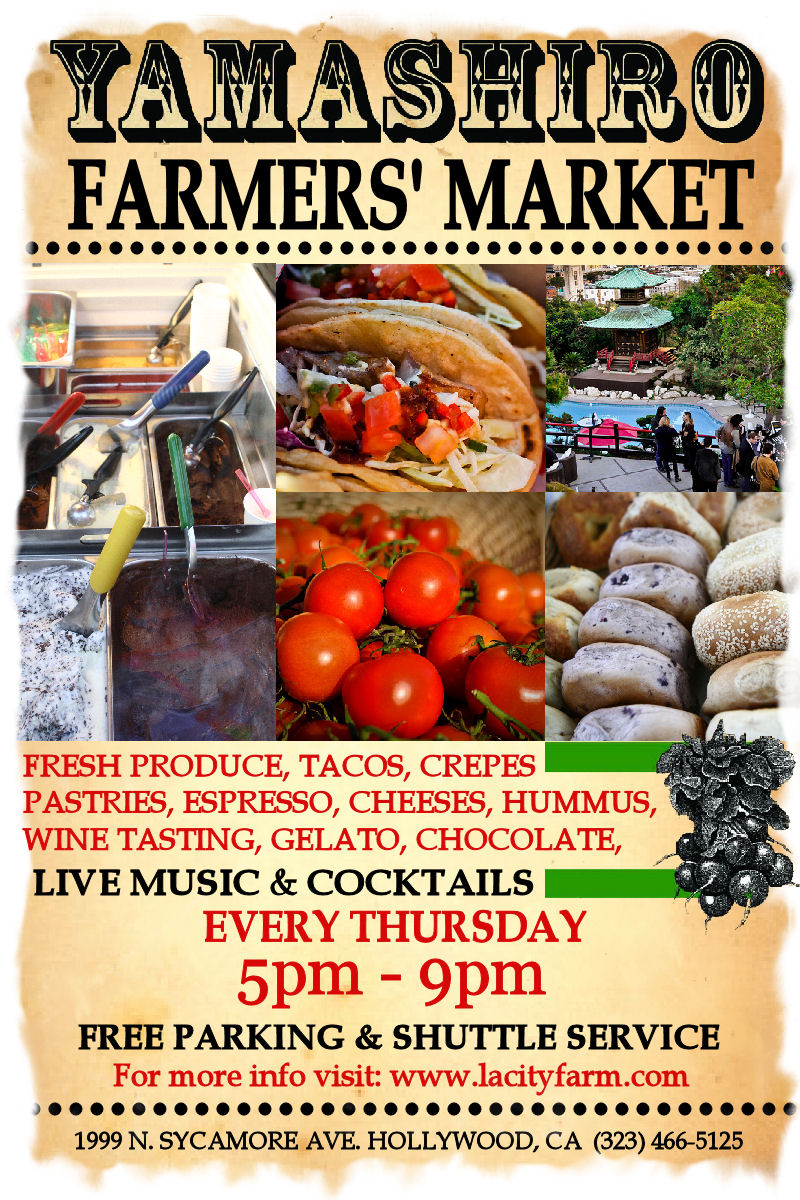 ...and it's finally back! Again I'm sorry about slacking, it was pretty hard for me to look at & write about all the awesome things going on in Los Angeles every weekend when I knew I couldn't go to any of them since my day off was always a weekday. Well pshaw, that's the last time I let that get in the way of you dear readers getting a weekly dose of awesome events.
(yeah yeah, I did use pshaw... get over it. Especially you
Slick Mahony
.)
Anyway, what's on the docket this weekend? Let's just say it's beginning to feel a lot like summer with the return of some of my FAVORITE weekend events! Cinespia's Cemetery Screenings, Barnsdall Art Park's Eat. Drink. Art and Yamashiro's Farmer's Market to name a few! Too bad I'll be relaxing in Palm Springs all weekend ;).
What about you guys?
I want to hear all about your weekend plans too! Leave em in the comments below :). And as always... if you want to connect, you can follow me on twitter
@nicolemiizuka
or find me on
Facebook
!
All Weekend
Unique LA
Saturday & Sunday (11am - 6pm)
Just in time for your last minute Mother's Day gifts, Unique LA is back with over 300 designers in the awesome penthouse space downtown. The largest independent design show in the country, attendees get the rare chance to meet and shop directly from over 325 hand-selected designers and artists. The exciting two-day shopping event makes it easy for you to buy local and support LA's economy, discover great design and deals, join in community, and have a blast. The products at the show are proudly made right here in the USA so you're putting your dollars right back into our economy and local community! With fun for everyone plan to spend the day with us…
The California Market Center (110 East Ninth Street, LA, CA 90079)
http://stateofunique.com/unique-la/
Friday, 5/11

Eat. Drink. Art. @ Barnsdall Art Park
7pm - Midnight
First. FINALLY they've extended the hours of this fantastic event so the rest of us who slave away (oh right, or USED TO) until 8 or 9pm on a Friday night can actually come out and enjoy Eat. Drink. Art. So yay for that! What is Eat. Drink. Art? Why it's where local artists and artisans join forces for a bash packed with performances, installations, and an interactive Surrealist drawing game, all set to music from KCRW's Dan Wilcox. Plus there's a variety of awesome food trucks and there's a plethora of beer & wine from City Sip, Eagle Rock & Craftsman Breweries. That and one of the BEST views in all of Los Angeles. If you plan it right you can also snag yourself a tour of Frank Lloyd Wright's infamous Hollyhock house while you're at it. Tickets start at $25 and a portion of the proceeds benefit the Los Angeles Municipal Art Gallery.
Barnsdall Art Park, 4800 Hollywood Blvd., at N. Vermont Ave., Hollywood
www.barnsdall.org
The Last of the Mohicans @ The Egyptian Theater
7:30pm
It's the 20th Anniversary of Director Michael Mann's classic, The Last of the Mohicans! This is your chance to watch the Definitive Director's Cut on the silver screen followed by a Q&A WITH Mr. Mann himself moderated by Geoff Boucher of the LA Times' Hero Complex blog. James Fenimore Cooper's classic novel of the French & Indian War gets a kinetic modern upgrade courtesy of action specialist Michael Mann. Daniel Day-Lewis plays Hawkeye, a white orphan adopted by a Mohican tribe; Madeleine Stowe is the beautiful daughter of a British officer. Their love story set against the backdrop of massive historical changes makes this the rare epic that is as intimate as it is sweeping. Tickets are $11.
Egyptian Theatre 6712 Hollywood Blvd Los Angeles, CA 90028
http://www.americancinemathequecalendar.com/content/the-last-of-the-mohicans-0
Saturday, 5/12
LA Vegan Beer Fest
12pm - 6pm
On May 12, Los Angeles will host the third edition of its Vegan Beer and Food Festival, taking place at the Roxy Theatre in West Hollywood. Attendees will be treated to beers from breweries such as North Coast, Sierra Nevada, Anchor, and Golden Road, as well as food from both mobile vendors (Seabirds, Mandoline Grill) and local eateries (Tony's Darts Away, Mohawk Bend, Doomie's). Proceeds from the event will be benefiting California Wildlife Center, which works to rehabilitate animals and address issues of conservation and environmental education. Tickets start at $60 VIP / $50 GA.
Roxy Theater 9009 West Sunset Blvd West Hollywood, CA 90069
http://lavbf.tumblr.com/
Venice Spring Fling
11am - 7pm
Free Music and Arts Festival: Venice Spring Fling On Saturday, May 12, 2012, the second annual VENICE SPRING FLING will kick off beach season in Venice with a free, full day of live music, art displays, and dance in Windward Plaza Park from 11am - 7:30pm. (Windward Plaza Park is at 1 Windward Avenue, between the boardwalk and the bike trail in Venice, CA, 90291.) An offshoot of the highly successful and locally loved Venice Beach Music Fest, the VENICE SPRING FLING keeps the historical creative spirit of Venice vibrant!
Windward Plaza Park, between the boardwalk and the bike trail at the west end of Windward Avenue in Venice, CA, 90291
http://www.venicespringfling.com/
Cinespia Cemetery Screenings - Strangers on a Train
7pm Gates || 8:30pm Start
Yet another fantastic summer tradition returns with the Hollywood Forever Cemetery screening series and it kicks off with Hitchcock's Strangers on a Train. Who doesn't love a night of sitting in the fresh air, out under the stars, snuggled up on a picnic blanket with friends or a loved one, sharing a bottle or two of bubbles, a plate of hand picked crackers and exotic cheeses watching classic Hollywood films? Now I know there's some debate as to the pre-sale of tickets, but regardless of your stance on the subject, they're here to stay... so might as well log in & get them ahead of schedule so you're not stuck on the outside of the gate looking in & wishing you'd had the foresight to pre-buy em.
Hollywood Forever Cemetery 6000 Santa Monica Blvd., at N. Gower St., Hollywood. Tickets ($10)
www.ticketfly.com
Sunday, 5/13
It's Mother's Day! Go be with your Mom!