Oscars Oscars Oscars! It's that time of the year where Hollywood glams and glitzs out, and everyone pretends they have important parties they're not attending. As for me? Last year was spent at the Governor's ball with Wolfie & Ms. Yard, but sadly this year will be a little more low key. Jersey Mike's Subs with my favorite Asian!
But before that, there are some other fantastic things going down this weekend. If you haven't had a chance to check out Short Order, GO. NOW. ON SATURDAY. And get ready to fill your tummy with burger upon burger & be sure to bring an extra bag so you can boot n rally!
What about you guys?
I want to hear all about your weekend plans too! Leave em in the comments below :). And as always... if you want to connect, you can follow me on twitter
@nicolemiizuka
or find me on
Facebook
!
Friday, 2/24
Welcome to Terrywood
Opening Party 6pm - 9pm
Terry Richardson's first solo exhibition in Los Angeles, titled TERRYWOOD, presents over 25 of his latest photographs. Inspired by the multiple facets of Hollywood life, TERRYWOOD unveils a series of images of the famous locale, as seen through Richardson's eyes. Terryworld meets Hollywood, as local characters, familiar landscapes, and architectural details, now verge on having a new identity. With images such as Hooray for Hollywood and NUDE, both photographs of the proverbial chintzy signs that are ubiquitous throughout Hollywood, Richardson illustrates his proclivity for branding whatever subject matter he approaches. Through a medium not typically understood as effective in translating an artist's personality, Richardson manages to make his hand evident within his photographs. His identity is unmistakably present here, as if he created the very objects and scenes his camera captures.
OHWOW, 937 N La Cienega Blvd
http://oh-wow.com/terry-richardson/
Saturday, 2/25
Santa Monica Bar Crawl: Naughtical by Nature!
5:30pm Start
Wanna drink? Wanna drink for a really good cause? Join us with the Eagle Rock Yacht Club, purveyors of fine dodgeball fun and not-for-profit extraordinaires, as we booze our way from bar to bar in the name of raising money for open gyms and after-school kids activities! Invite whoever you want! All the bars will be within walking distance of each other in SANTA MONICA. There will be DRINK and Food specials at each bar! Wear something that goes with the Nautical theme! See you thaaaaaaaaaarrrrrrrr! For the list of bars, pay your $5 participation donation in advance here:
https://eryc.wufoo.com/forms/eryc-naughtical-by-nature-bar-crawl/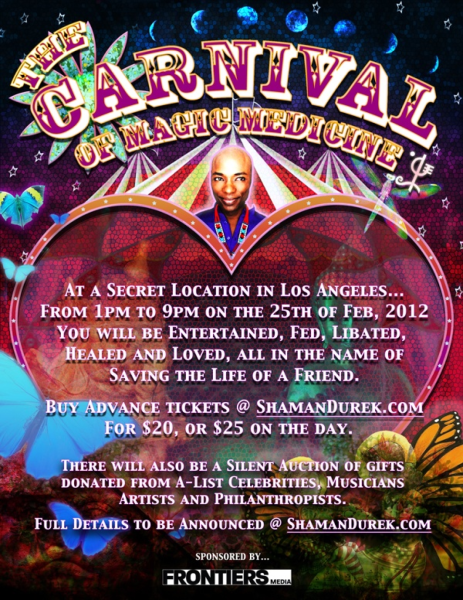 The Carnival of Magic Medicine
1pm - 4pm
This is an all-day fundraiser full of mini healing sessions, shamans, psychics, live music, silent auction, Great food and beverages, live entertainment and performances from projection-performance musicians WIFE, famed-violinist Ysanne Spevack, DJ Lady Dee, Dj Jeni Luv, Dj Seeps, Featherbeard, Mariea Antoinette and much more... All proceeds from event will be contributed to can-do.org for nonprofit fiscal sponsorship of Operation Get Shaman Durek A Kidney.
1503 S. Central Ave., at E. 14th Pl., Downtown
https://www.wepay.com/events/the_carnival_of_magic_medicine
Test Kitchen @ Short Order
9pm - 1am
Being part of the Test Kitchen family is always a welcome and happy thing, especially when they put on awesome burger-tastic events like this one! Five Chefs, Four Mixologists, one amazing night. Short Order will host such former Test Kitchen occupants as Walter Manzke, Ray's chef Kris Morningstar, Adam Horton from Raphael, Short Order's own Christian Page, and Ori Menashe of Bestia alongside Julian Cox, Son of a Gun's Daniel Warrilow, Starck Bar's Paul Sanguinetti, and Chris Parke of Raphael. Reservations suggested. Burgers $14-18. Special Sides $5-$12 | All special menu items available a la carte.
The Farmer's Market, 6th and Fairfax
http://www.shortorderla.com/
12th Annual "Brazilian Carnaval: Exotica"
8pm
Brazilian Nites presents the 12th annual "Brazilian Carnaval: Exotica," the largest Carnaval celebration on the West Coast at L.A. Live's Club Nokia on Feb. 25th! This euphoric annual celebration before Lent, is the most anticipated holiday in Brazil to let loose and dance the night away. Brazilian Nites' magic formula of true Latin party spirit, sensuality and flavors features an All Star band of highly acclaimed international musicians curated by Chalo Eduardo (who performed with Sergio Mendes, Santana, Mickey Hart, Ricky Martin) playing classic Carnaval hits. DJ Chris Brazil spins additional Brazilian dance music and the band SambaDa brings its high-energy percussion, danceable grooves and visually dynamic show to the Carnaval stage. All ticket buyers are invited to join in a 100 drummer participatory drum circle by Remo and a free drawing for a trip for two to Brazil. An all night pageant of elite Samba Dancers and Capoiera, the traditional Afro Brazilian martial art dance add to the spectacle that is Carnaval. Costumes are encouraged!
Club Nokia 800 W Olympic Blvd Ste A335 Los Angeles, CA
http://www.braziliannites.com/
Eat Your Art Out
7pm - 11pm
When it comes to raising funds for your charity or cultural project, a silent art auction is a solid way to go. But tonight's fifth annual "Eat Your Art Out" is not your average fundraiser — it's more of a free big-top carnival, beer and DJ party, with a killer silent indie-art auction. Jane Dope's background in independent art and her long love affair with the glamorous, sexy and frequently violent sport of flat-track ladies' roller derby (as a leading member of the Angel City Derby Dolls) collided five years ago when the team turned its low coffers into high times — and this year is the biggest "Eat Your Art Out" yet. They're basically building a carnival park inside Titmouse animation studios, with food trucks, games and assorted fairground attractions strategically deployed to get your spirits up and prepare you to aggressively knock your competitors off the bidding platform at the main event — an auction featuring works by more than 60 local artists and designers who love this most rollicking sport of queens. All funds raised go to locking down a permanent home for the Angel City Derby Girls, and after years of looking gorgeous while kicking ass on wheels for your enjoyment, they deserve it!
Titmouse Inc., 1121 Seward St., Hollywood
http://angelcityderbygirls.com
Sunday, 2/26
Beverly Hills Wine Festival
3 p.m.– 6 p.m.
When you think of Beverly Hills, the first thing that comes to mind is luxury. In keeping with the spirit of this exclusive enclave, we have teamed with some of the most prestigious sponsors ever to bring you an experience of unparalleled extravagance. The Beverly Hills Wine Festival is proud to introduce the taste of some of the most revered wines, beers, and liquors available, as well as makers of exceptional products.
The Beverly Hilton 9876 Wilshire Blvd Beverly Hills, CA 90210
http://www.beverlyhillswinefestival.com/
Tuesday, 2/28
Closed on Mondays at Salt's Cure
5 to 10 p.m.
Salt's Cure will host a special Tuesday edition of Closed on Mondays to benefit the Edible Schoolyard at Larchmont Charter School. The three-course prix fixe menu will feature Meyer lemons grown, harvested and preserved by Larchmont Charter students, in addition to Tunisian braised-veal meatballs. Dinner costs $40 (cash only). Call 323-850-7258 for reservations; walk-ins are welcome.
Salt's Cure, 7494 Santa Monica Blvd., West Hollywood;
closedonmondays.com
Wednesday, 2/29
Hot Bartenders in Hollywood Crawl
7:30pm
The fabulous Minty pulls together some pretty amazing bar crawls, and I have to say I've been waiting for this one for a while. Um. Shall we gawk at hot bartenders? Why yes please! Bring em on... this crawl starts at the super tasty Wood & Vine (charcuterie anyone?) and then meanders through Sadie, Hemmingway's, Library Bar (yes, I can totally attest to the hotness of the bartenders here) and ending at the Spare Room. If you'd like to attend, hit her up on facebook or twitter!
http://theminty.com/2012/02/22/hot-bartenders-in-hollywood-bar-crawl/