I'm sure everyone's schedules are chock full of Holiday Parties and whatnot, but in case you find yourself with a little free time, there are some great events going on this weekend (albeit the really cool ones are in Pasadena, what gives?!) you should check out. As for me, it's back to the Trapeze for a little
Living Social Life
, Christmas Tree shopping & a tasting at the new and fully stocked bar at
Spitz Little Tokyo
! Yes you can expect a full report next week... their cocktail list looks delish!
Also if you want to connect, you can always follow me on twitter
@nicolemiizuka
or find me on
Facebook
!
Friday, 12/9
Vintage Denim Party @ Fred Segal
6:30pm - 8:30pm
Shopping, shopping and more shopping... it's that time of the year where every store outfits their sales with gratis booze to get your fashion styling & your credit cards loose. I wouldn't normally mention an event like this, but they're also advertising gratis Umami & PBR along with their stellar line of denim, and it's hard to pass up an offering of delicious happy burger. So if you're in the mood for a little retail therapy check it out.
Levi's XX Shop at Fred Segal, 500 Broadway, Santa Monica
www.fredsegal.com
Saturday, 12/10
Eat My Blog: Charity Bake Sale
10 a.m to 4 p.m.
Who doesn't love a good calorie fest? This time they're headed to Old Town Pasadena for the fourth Eat My Blog bake sale which features a ton of sweets and treats from local restaurants and all your favorite food bloggers. Plus it's for charity! There's normally a whole smattering of bacon inspired confections, as well as hot coffee on hand to wash it down. All the proceeds benefit the L.A. Regional Food Bank in case you needed justification to eat your heart out.
Pita Jungle, 43 E. Colorado Blvd., Pasadena
eatmyblogla.wordpress.com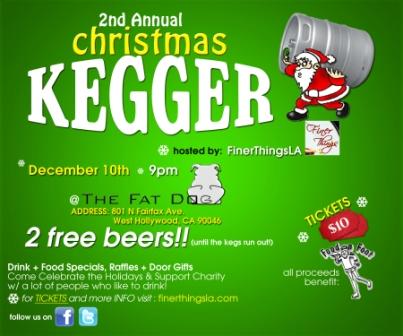 FinerThingsLA Christmas Kegger 2011
9:00pm - 1:00am
The drunk+fat girls of Finer Things LA are throwing their 2nd Annual holiday bash with free beer, tons of booze, food, raffles & fun. Plus, they're all about helping charity & all the proceeds will go to Food on Foot (
www.FoodonFoot.org
). Some of the cool raffle prices include Blow Outs @ The Dry Bar, Morrocan Wines by Exotic Imports, Bites Bakery, TooFaced MakeUp and Night Tap. Entry costs $10 and includes your first two beers + $3 shots all night.
The Fat Dog - Hollywood, 801 N. Fairfax Ave.
christmaskegger.eventbrite.com
Hyundai Re:Mix Lab L.A. w/Jason Bentley featuring director Jason Reitman and turntablist Cut Chemist
7:00 PM
Join KCRW for a very special, intimate evening with KCRW Music Director, Jason Bentley as he interviews director Jason Reitman and DJ/producer Cut Chemist. As fellow creative innovators and close friends, director Jason Reitman and turntablist Cut Chemist use music as a connecting point in their personal discussions. For the first time, they will be bringing that conversation - and their deep music collections - to a live audience for a free, one-of-a-kind event. With two turntables and a microphone (ok...two microphones) Reitman, the filmmaker behind the acclaimed movies Up in the Air and Juno and renowned DJ/producer Cut Chemist (aka Lucas MacFadden) will explore the songs that have inspired them and their creative process in a loose "conversation through music." Both artists have new projects in the works and will give us hints about what's ahead. Free w/ RSVP
Farmers & Merchants Bank - 401 S. Main Street
www.kcrw.org
Sunday, 12/11
Artisanal L.A.
10 a.m. to 6 p.m.
Probably one of the best events for locavore foodies, Artisanal L.A. is back with more than 50 vendors for its second annual Holiday Pop-Up Shop. This unique shopping experience will feature some of the finest in local edibles, including Plush Puffs Gourmet Marshmallows. In addition to tasting and shopping, there will be workshops from the Institute of Domestic Technology. Admission is $5. The first 500 attendees get a special gift bag.
Armory Center for the Arts, 145 N. Raymond Ave., Pasadena
www.artisinalla.com
The Minty: Fried Chicken Crawl
3pm - 6pm
The lovely Minty who's forever putting together amazing food & pub crawls has combined forces with Hungry Hungry Hanh and they're doing what sounds like a golden fried delicious crawl this Sunday in & around LA / Culver City. Fried Chicken!! They're starting with Roscoe's, then heading to Golden Bird, Honey's Kettle Fried Chicken, and finally ending at A-Frame for some Roy Choi beer can chicken, and of course dangerously good cocktails. Don't forget to
RSVP
! As usual, we pay our own way and you're welcome to come to all stops or just one or two. Please bring cash as it's handier.
Start @ Roscoe's House of Chicken & Waffles 5006 W Pico Blvd., Los Angeles, CA 90019
www.theminty.com