Who's ready for the weekend? I know I am! Tonight I'm hitting up
Aiden Demarest's newest venture Neat
before heading to the El Rey to check out the
Plain White T's
. Tomorrow, after hanging out with Sparky for a bit at the
New World F.E.S.T
. I'm headed to the pier for a little
Sushi + Trapeze love
with the awesome
Living Social Adventures
crew! Sunday it's time for more mixology with
Table 20's Best Bartender
competition, and if I can wrangle the troops, I'd love to check out the
Veuve Polo Tourney
... it's been a "must do" on my bucket list for a while now, but I've never quite made it.
What are you guys up to this weekend?
Remember, you can always Like
Cake & Heels on Facebook
and leave comments, or tweet me
@nicolemiizuka
!
All Weekend
New World F.E.S.T.
October 7th - 9th
All I have to say is... Sparky The Dragon Oven - World's fastest rocket oven - very sustainable - and wait til you try it's delicious pizza. This weekend Santa Monica plays host to the New World F.E.S.T. (Festival of Eco-Friendly Science & Technology) with over 150 cool exhibits, six different stages with live music, keynote speakers, demos and of course, ROBOTS. Visit their website for a full overview of everything the event has to offer, but I think based on the appearances by "Sparky" and "Susan Fries aka The Termite Lady" this is an event not to be missed. $12 Adult ($8 Child & Senior)
Ocean Park Blvd and Barnard Way Santa Monica, CA 90405
http://www.thenewworldfest.com/santa-monica/
IndieCade
October 7th - 9th
Imagine a series of global showcases and festivals serving developers as well as the general public – collectively forming an international marketplace and a traveling celebration of this community's new voices and their trailblazing work. Imagine thousands of independent creators, developers, thinkers, players, and fans from across the world, sharing this sense of community and the work at its heart with the rest of the world. That's IndieCade. And it's happening this weekend. The IndieCade Festival, featuring dozens of games, including Big Games, a Game Walk in which attendees can play new games and meet their creators, and Night Games with - you guessed it - games at night.
Various Locations throughout Culver City.
http://www.indiecade.com
FILTER Magazine's Culture Collide Festival
October 6th - 9th
FILTER Magazine's Culture Collide is a four-day international festival welcoming artists from 24 countries and counting, bringing their unique perspectives on music and culture to LA's East Side for a musical melting pot of live performances, film screenings, and happy hours featuring food and drink from around the world. The festival will once again end with the Toyota Antics Block Party, a free all-day event in Echo Park on Sunday, October 9th. A limited number of festival wristbands, providing access to all Culture Collide showcases, are available now for $20.
Locations vary between The Echo, Echoplex, Taix, 826LA, The Church, ReForm Academy, Co-op and Origami.
http://culturecollide.com/
Baja California Culinary Fest
October 5th - 9th
The first annual Baja California Culinary Fest is an international event that will allow the projection of Baja California is an important culinary venue with first class cuisine and innovative proposals. An event that is based in the culinary art of Baja California and those activities related directly to gastronomy and the love for good food taking place form the 5th to 9th of October 2011. Great talents of the culinary arts from all around the world come together at the Baja California Culinary Fest to show their original creations using the natural resources of the region. 5 days of intense flavors, delicious smells, ecotourism, adventure, romance and discovery.
Locations Vary
.
www.bajaculinaryfest.com
Friday, 10/7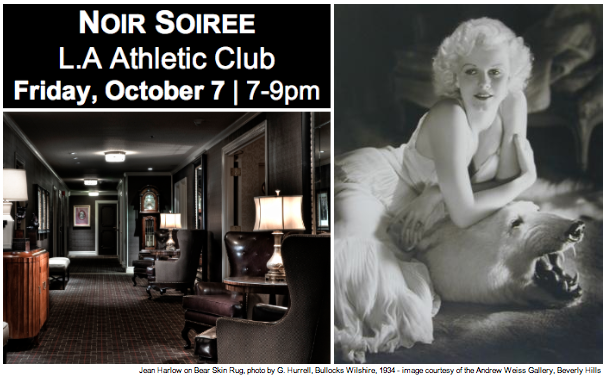 Noir Soiree @ LA Athletic Club
7pm - 9pm
Join us for an exceptional evening at the newly renovated ballroom of the Los Angeles Athletic Club, created in 1880 by prominent Angelinos, sons of pioneers, adventurers and athletes. Experience a Noir repertoire filled with vintage art & fashion, fine wine & gourmet fare couplings and live music. Enjoy strolling models in a fashion show produced by Dave Temple of Clever Vintage Clothing and a silent auction. Do not miss this unique opportunity to surprise yourself, relax and mingle at a really amazing historic location. Tickets $68
Los Angeles Athletic Club - 431 West Seventh Street - Los Angeles, CA
www.lawinetasting.com
Sunday, 10/9
Veuve Clicquot Polo Classic
10am - 4pm
Angelenos are invited to watch world-renowned polo player and event co-host Nacho Figueras and his team, Black Watch, go head-to-head against some of the best polo players in the world, all while sipping Veuve Clicquot and enjoying fare from some of Los Angeles' most beloved gourmet food trucks. Bleachers will be provided for watching the match, and there will be plenty of room for picnicking on the grounds. Set on the idyllic grounds where Hollywood celebrity and polo connoisseur Will Rogers used to play polo himself, this historic site is located just outside Rogers' former private home. Tickets to attend the Veuve Clicquot Polo Classic are $15, with the event benefiting the Will Rogers State Historic Park.
Will Rogers State Park Road Pacific Palisades, CA 90272
http://vcseason.com/lapolo/
Table 20's 2nd Annual LA's Best Bartender Competition
3:30pm - 7:30pm
This is not a typical bartender competition. Our purpose is to celebrate your favorite bartenders and to crown one of them as LA's Best Bartender for 2011. On 10/09 the LA community is invited to attend the competition and party. Come taste and vote for the best Karlsson's Gold Vodka cocktail (created by the finalist bartenders), shop at Barkeeper's pop-up store, slurp boozy snow cones from IceIceShavie, witness the competition, and give our bartenders love & appreciation. Nominated by fans, the top 5 bartenders are going to duel it out this Sunday with guest judges Johnny Iuzzini, Dale Degroff, Matthew Biancaniello, Marcos Tello, Bricia Lopez & Jessica Gelt. Tickets $25
Elevate Lounge 811 Wilshire Blvd 21st Floor Los Angeles, CA 9001
7
http://labestbartender.eventbrite.com/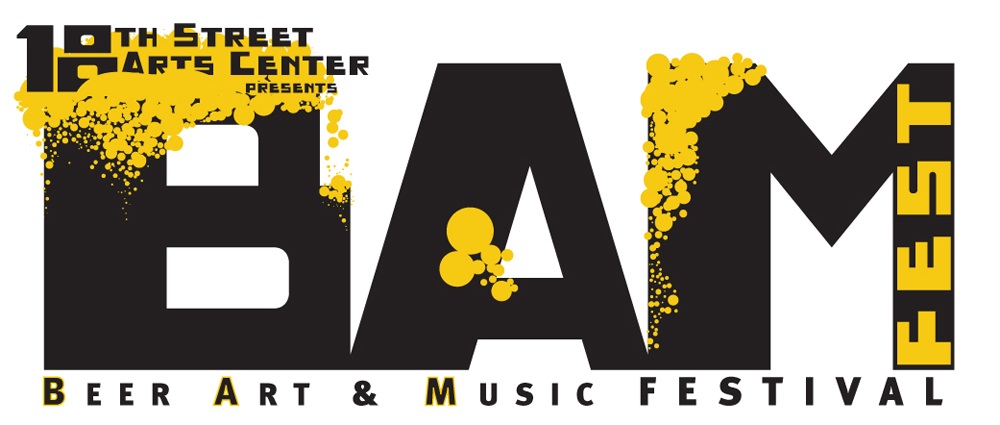 B.A.M Fest (Beer, Art & Music Festival)
1pm - 6pm
18th Street Arts Center is bringing its renowned Craft Beer Festival, BAM Fest (Beer, Art & Music Festival) to Santa Monica on October 9, 2011. BAM Fest is a celebration of locally produced art, music and California's finest craft beers – 20 breweries, 4 bands, 3 galleries, open artist studios, an artist market, and gourmet food trucks make up this one-of-a-kind event. All proceeds benefit 18th Street Arts Center, a Santa Monica 501(c)(3) non-profit organization.Pre-Sale Tickets: $35/person or $40 at the door gets you a BAM Fest logo tasting glass and unlimited sampling, 5 hours of live music, exploration of artist studios and galleries and the joy of drinking some of the best beers around.
18th Street Arts Center 1639 18th Street, Santa Monica
http://18thstreet.org/blog/bam-fest-2011
CicLAvia - La's Biggest Block Party
10:00 AM - 3:00 PM
CicLAvia will open 10 miles of normally congested streets into a car-free, safe, family-friendly place for exploring the city from a new perspective and at a leisurely pace. CicLAvia is free and welcomes Angelenos of all ages, interests, and every kind of non-automotive transit imaginable - from sneakers to stilts and bikes to trikes. (Members of the city's vibrant canine community are also welcome, provided that they are accompanied by an adult and properly leashed.) Food trucks, restaurants, and neighborhood watering holes will all be providing food and beverages for the day of the event. The route runs from East Hollywood to Boyle Heights with expanded routes to include a north-south extension, stretching south to the African American Firefighter Museum on Central Avenue and north to El Pueblo de Los Angeles and Olvera Street, ending at Cesar Chavez Boulevard.
www.ciclavia.org
Coming Up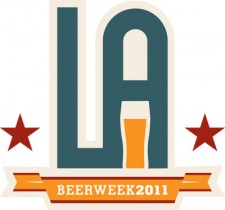 3rd Annual LA Beer Week
October 10th - 23rd
From the always lovely
Caroline on Crack
: "The
3rd Annual LA Beer Week
kicks off this coming Monday, with a beer-intensive party at Naja's Place in Redondo Beach (which you can still buy or
win tickets
for by the way). What follows after that is 14 days of beerlicious events. Take your pick: a musical beer crawl, a 12-course beer paired dinner, a beer float showdown or a brewery opening. Only the truly ambitious will attempt them all."
http://labeerweek.com/
Check out her website
Caroline on Crack
for a full rundown of all the great week-long events!
L.A. Food & Wine Festival
Thursday, 10/13 through Sunday, 10/16 Hours vary
Hospitality entrepreneurs and founders of Pebble Beach Food & Wine, Robert Weakley and David Alan Bernahl of Coastal Luxury Management, together with dick clark productions (dcp) and AEG announce the debut of Los Angeles Food & Wine, coming October 2011 to L.A. LIVE, the downtown Los Angeles sports & entertainment district and other locations throughout the city of Los Angeles. This new breed of culinary festival will gather all-star talent from both the entertainment and culinary platforms to celebrate the very best in food and drink culture throughout Los Angeles. More than 100 celebrity chefs will lead demonstrations, seminars, lunches, dinners, and dedicated after-hours events featuring tastings from over 300 premier international wines. Famed chefs participating in the citywide celebration are among the country's finest, including Wolfgang Puck, Daniel Boulud, Rick Bayless, Nobu Matsuhisa, Tom Colicchio, Nancy Silverton, Masaharu Morimoto, Tyler Florence, Michael Chiarello, Michael Mina, Sang Yoon, David Myers, Rory Herrmann, Walter Manzke, Sherry Yard, Josiah Citrin, David Myers, and Joachim Splichal. (tickets for individual events range from $50 to $2,000; click here to purchase). visit
www.lafw.com