Sorry guys I'm a little out of it today, I've been building a whole new website (
www.nicolemiizuka.com
) to focus specifically on photography, but I clearly need some lessons in HTML because my website design consists of mastering blogspot & being really good at google searching shortcuts to make my site look pretty without actually having to do any coding or pay to host my site.
What does this mean? Nothing really. Other than my Weekend Docket is a little overdue. Plus I'm heading to the VEGAS for the weekend so I'm not nearly as excited about all the fun events I'll be missing in the City of Angels this weekend.
I do have a little bit of a plea for you guys however... I'm not one to normally do this, but as we all know in the age of social media, numbers matter. If you enjoy my weekly round up of local Los Angeles events and want to support my generally successful baking experiments, please do the following:
Like
Cake & Heels on Facebook
Follow me on
Twitter @nicolemiizuka
Thank you so much in advance for all of your support & continued motivation to keep blogging!
And on to the Docket!
All Weekend
LA BBQ Festival
Fri from 4:30-7:30pm, Sat & Sun 11am-2pm and 4-7pm.
The LA BBQ Festival returns to the Santa Monica Beach, promising to be the best BBQ meal you've ever had! The three day event will feature authentic 'cue from Texas, Kansas City, Chicago, Santa Maria and more, in addition to live entertainment, award winning desserts, and over 30 beers on tap, as well as wine. General admission is $60 and includes EVERYTHING... bbq, drinks, and desserts. A percentage of proceeds from the LA BBQ Festival will support Noah's Bark Animal Rescue. Santa Monica Pier 1550 Pacific Coast Highway
http://www.labbqfest.com/
The Original Long Beach Lobster Festival
Fri 5-11pm, Sat 12-11pm, Sun 12-10pm
The Original Lobster Festival has become a tradition to over thousands of festival goers annually. We combine local popular artists, Swing, Salsa, R&B/Motown, Decades 70s/80s Dance Bands, tons of Fresh Live Maine Lobsters steamed in the World's Largest Cooker prepared and served by Bristol Farms Master Chef for that mouth watering taste, giant food court, children's area, dance floor, two stages and beach bars to create the largest Lobster Festival outside of Maine, right here in Southern California. Rainbow Lagoon in Long Beach, California
http://www.originallobsterfestival.com/
Saturday, 9/10
The Carnival of the Dead Costume Ball
7pm - 2am
Presented by the So Cal Paranormal Conference, the Carnivale of the Dead Costume Ball caps off a weekend of events. Mingle with celebrity guests, enjoy roving circus acts and entertainment that will tingle your senses, parttake in fortune telling that will amaze you and more! This will be a night you will never forget! Costume fitting our theme -OR- semi-formal attire with a mask required. Imaginative costumes highly recommended. Tickets $25. The Millennium Biltmore Hotel 506 S. Grand Avenue, Los Angeles, CA 90071 (Film Location from Ghostbusters)
http://www.socalparacon.com/
Brazilian Day LA
Noon to 6 p.m.
The 14th Annual Brazilian Street Carnival has teamed up with the 6th Annual Brazilian Day in L.A. to form one huge celebration of Brazilian culture. Entertainment will be provided by live bands, dancers and a full-on Rio-style parade, and there will be authentic Brazilian cooking, such as delicacies from the Bahia region, various fried finger foods, and traditional churrasco from Silvio's BBQ. Event admission is free and vendor prices vary. Page Museum at the La Brea Tar Pits, 5801 Wilshire Blvd.
www.braziliandayla.org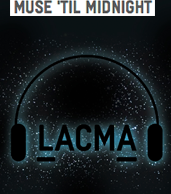 Muse 'til Midnight
8:30pm - 12:30am
Radio collective dublab turns the museum into a modern-day musical with this exclusive, after-hours event. Tour the museum's galleries with a tailor-made soundtrack, with performances and interactive projects along the way. Then check out an exploration of sound, both amplified and silent, in front of LACMA's iconic Urban Light sculpture. This event is curated by LACMA Muse, the museum's premier group for young art patrons. Complimentary beer and wine provided by Heineken and Malibu Family Wines, plus craft cocktails available for purchase at Stark Bar. LACMA | Tickets: $25 Muse Members; $40 General Admission LACMA 5905 Wilshire Blvd. Los Angeles 90036
http://www.lacma.org/musetilmidnight
FilAm ARTS Presents: S3 - Sweet, Savory and Sommelier
7pm - 9pm
Join us for this special fundraiser, an evening pairing Filipino-inspired chocolates and wines at Kazuyo Sushi, a Filipino-owned Japanese restaurant, with all proceeds supporting FilAm ARTS. This exclusive wine and fine chocolate tasting will feature Filipino inspired chocolate creations from Marti Chocolatt paired with an exclusive selection of wines specially choiced by Santos Uy (Mignon, Bacaro). The event takes place at Kazuyo Sushi, a Filipino-owned Japanese restaurant, with all proceeds benefiting FilAm ARTS. General admission to this special culinary event will include just the chocolate and wine pairing at $35. VIP admission includes the chocolate and wine pairing plus a box of chocolates and wine to take home for $75. Kazuyo Sushi 7160 Melrose Ave. Los Angeles, CA 90038
http://filamarts.org/S3fundraiser
Sunday, 9/11
Magic and Wine Tasting with David Minkin
4pm-6:30pm
Join David Minkin, International Champion of Magic, for a special evening of magic and wine tasting. begin upstairs in the scenic tower room with a tasting of four excellent wines from Rosenthal – The Malibu Estate. With ocean views, delicious wines, and tasty hors d'oeuvres, the fun is just beginning. The second hour of the event is when the real enchantment happens. You'll journey down the candle-lit stairs into the wine cellar to watch a show that will forever change your definition of "magic". Only 30 tickets are available. The $85 ticket includes everything – the wine, the hors d'oeuvres and the show. Beau Rivage 26025 Pacific Coast Highway Malibu, CA 90265
http://www.magicandwine.com/
Tuesday, September 13
Gin-ology 101 at Public School 612
7:30pm
Why Gin? Visiting Professor Russ Sabin, a member of the USBG (U.S.Bartenders Guild), is a bartender based in San Diego with an impressive following. As a Mixologist he maintains the roots of the classic cocktail and uses only fresh ingredients for his creations, and many of his own ingredients made from scratch including bitters and various infused simple syrups. Come learn from the expert about the history and lore of Gin and taste six of Prof. Sabin's Gin creations, along with paired appetizers to nosh on. Class size is limited. Reservations are required (213) 623-1172. $35 per person. Public School 612, 612 Flower Street, Downtown LA.
http://www.publicschool612.com/bulletin.htm