Underground Rebel Bingo
what?? Yep. That's where I'll be tonight. Shh... wait, I mean I'm going to a HEALTH & FITNESS SEMINAR. That's right. HEALTH & FITNESS SEMINAR at 9pm in Silverlake.
What can I expect? I honestly have no idea and that's half the fun! That and the fact that there will be some "hardcore bingo" going down. For any of you slackers who didn't buy tickets soon enough, they're still selling them at the door for $15.
Other than that, doing a little Champagne Brunching on Saturday, and a whole day of SUP Love on Sunday with Living Social!
Stand Up Paddleboarding + Margaritas
? Yep, this is probably one of the coolest jobs in the world. Now we just need to convince them to get Living Social wetsuits for the November + December trips!
Would love to hear what you guys are up to this weekend!
Remember, you can always Like
Cake & Heels on Facebook
and leave comments, or tweet me
@nicolemiizuka
!
All Weekend / All Week
DineLA Restaurant Week
Oct 2-7 || Oct 9-14
It's back & better than ever! dineLA Restaurant Week is a two-week dining event, showcasing Los Angeles as a premier dining destination and highlighting the diversity of culinary experiences that LA has to offer. Presented by LA INC. and American Express, dineLA Restaurant Week has been designed to stimulate business and introduce new customers to restaurants located in the many neighborhoods throughout LA County. Bonus: If you sync your American Express Card & save $5 at each DineLA restaurant when you check in on foursquare.
www.dineLARestaurantWeek.com
Manhattan Beach Hometown Fair
Oct 1 & 2
Join us for a weekend of family fun, music, live entertainment, arts, crafts, kids games, wine & beer gardens for adults. The Fair is fun for all ages. Great fair food, beautiful arts & crafts from hand selected vendors, free entertainment on our Main Stage and South Stage, games for kids of all ages and of course, the Kids Country are just some of the venues available for visitors. This event is a Manhattan Beach tradition!
Live Oak Park, Dorsey Field and the Joslyn Center, Manhattan Beach, CA
www.mbfair.org
Friday, 9/30
The Macallan After Dark
10pm - 1am
Join The Macallan as we dim the lights and turn up the music at our exclusive Macallan After Dark event. Sip The Macallan to discover why it's a top choice among single malt scotch connoisseurs around the world. Sample a flight at your table – or while flirting at the bar. Come party the night away, drinks are on us. There will be a $5 donation collected at the door to benefit the charity (i.e. water).
Exchange LA, 618 S. Spring Street
www.themacallanafterdark.com
Saturday, 10/1
The 13th Annual Eagle Rock Music Festival
4pm to 11pm
The Eagle Rock Music Festival will welcome the eclectic, local lineup for which it is known, highlighting the ethnic and cultural diversity of the Los Angeles music scene. Center for the Arts, Eagle Rock experiments with a multitude of genres to create a truly groundbreaking experience. The mix of localism and innovation has paved the way for many other community festivals. Musicians perform at ten unique one-night-only venues ranging from auto shops and formal stages to historical buildings and a motel balcony along Colorado Boulevard, which will be open to pedestrians between Eagle Rock Boulevard and Argus Street. Admission is a suggested donation of $5, and free parking is available at Eagle Rock Plaza.
Eagle Rock Music Festival, Colorado Blvd. (between Argus St. & Eagle Rock Blvd.), Eagle Rock
eaglerockmusicfestival.wordpress.com
Food Truck Festival at Santa Anita Park
11am - 5pm
The Santa Anita Food Truck Festival is back, and is going to be BIGGER and BETTER than the first. Enjoy gourmet food from 80 of Southern California's finest gourmet food trucks including The Grilled Cheese Truck and the Lobsta Truck. Food trucks and foodies everywhere will take over the ENTIRE Santa Anita Infield. There will also be carnival games and live music as well as pony rides for the kiddies. $5.
Santa Anita Park, 285 West Huntington Drive, Arcadia
http://www.santaanita.com/specialevent/2011/food-truck-festival-ii
LA Burning Man
1pm - 2am
8 Stages of Entertainment, Tons of Art and Activities for All Ages. This is the official Burning Man Los Angeles Decompression event. Experience the art and culture of Burning Man brought to life in downtown LA. Be a participant in the LA Burner community and immerse yourself in twelve hours of art, performance, live bands, DJs, theme camps, art cars, green technology, puppetry, circus, marching bands, fire and 2011 imagery. Come be a part of the experience. $20.
Los Angeles State Historic Park, 1245 N Spring Street, Los Angeles
www.laburningman.com
Taste of Italy
4pm - 10pm
The third annual Taste of Italy, Los Angeles' premier cultural-gastronomic event, takes place on Saturday, October 1, 2011. Featuring dozens of the region's exceptional Italian and Italian American restaurants, wineries and purveyors of culinary specialties, as well as a variety of live entertainment, Taste of Italy benefits the Italian American Museum of Los Angeles. $45 pre-sale, $50 at the door (includes 6 food tickets and 6 drink tickets)
424 N Main St., Historic Little Italy, Los Angeles 90012
www.italianhall.org
Footloose @ Devil's Night Drive-In
6pm Start Time
Probably one of the best outdoor movie screening series, the Devil's Night Drive In is a totally awesome rooftop drive-in in the heart of Downtown LA. On Saturday they're screening an all time classic, Footloose! You can also munch on popcorn, burgers and hot dogs that are delivered to your window, car-hop-style, by the ladies of Angel City Derby Girls. Tickets cost $10
Devil's Night Drive-In, 240 W. 4th St., Downtown
www.devilsnight.com
Sunday , 10/2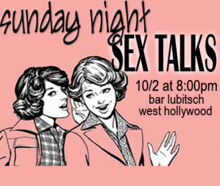 Sunday Night Sex Talks
8pm Show Time
From the always fabulous Jessie of
20-nothings
, you should check out Sunday Night Sex Talks which is a monthly, girl's-only storytelling series featuring L.A.-based performers telling R-rated tales. The theme of September's show is: The first time I __________ I felt ___________. Prepare for candid, irreverent, genuine and hysterical stories told from the first-person perspective by some of this city's hottest talent (looks and skill-wise). Tickets are $6
Bar Lubitsch 7702 Santa Monica Blvd
http://www.brownpapertickets.com/event/194978