It's my boyfriend's birthday! HAPPY BIRTHDAY to the wonderful Zucca that completes my Iizuka :-). [insert lolly o'fallon gag face here]. If you're in the area please join us at Harvard & Stone tonight for some cocktails and fun!
Other than that, there's a ton of Mother's Day plans... brunch, dinner, ANOTHER brunch... no I don't have that many mother's, but I do have that many grandmothers to celebrate. Afterward, I do hope that I'll make it out to a Derby party Saturday night & perhaps a quick trip to Unique LA for some fun new finds on Sunday.
All Weekend
Unique LA (as reviewed on Blogging.LA)
May 7th & 8th (11am – 6pm)
Fretting over finding that last minute, yet oh so perfect gift for your mother? Or perhaps you're tired of going to the standard Mom-osa filled brunch & want to try something new… Well you're in luck, this weekend the wonderful Sonja Rasula is putting in another installment of the coolest independent design & shopping show in the country, Unique LA. With over 300 designers & artists showcasing their wares over the course of two-days of fun filled shopping this is truly an event not to be missed. I know I always come home with armfuls of amazing finds, from jewelry, to purses, to ironic t-shirts for my boyfriend & one-of-a-kind "omg where did you FIND that" outfits for me. It's also a great way to meet a ton of local designers, many of whom are right here in Los Angeles! Plus there are a ton of workshops & food vendors peddling all sorts of yummy treats camped out at the event.
California Market Center's Penthouse 110 E 9th St # A727
http://uniquela.com/
Friday, 5/6
First Fridays @ Abbot Kinney
6pm - 10pm
First Friday continues this wave of festivity! The fpocus for this month is at the south end of Abbot Kinney, just west of Venice Blvd. Zingara and Robin's Sculpture Garden are 2 spots where locals go to for thisf ree monthly event. Robin's really is a wonderful garden featuring the sculptures of local artist, Robin Murez, while Zingara has women's and kids clothing, jewelry and accessories. Check out the back patio for some 'mores and good company; it's a family friendly place. Secret- sale on Saturday! Stop to eat healthy and delicious food at Lemonade, at the corner of Venice. The seared ahi is amazing; you can order that with one of their many fresh salads and of course, a lemonade. They even have a watermelon lemonade. yummy and reasonably priced!
Abbot Kinney, Venice
http://www.abbotkinney1stfridays.com/
Saturday, 5/7
Kentucky Derby Viewing Party at the Los Angeles Athletic Club
1pm - 4pm
'Hold Your Horses' will feature large screen live feed of the 137th Kentucky Derby races, live Blue Grass & Gypsy Jazz music by Icy Hot Club, Kentucky-inspired specialty cocktails And Food, Whisky Tastings, Designer Hats, Equine Games, Prizes and More… Admission: $25/person (includes entry, complimentary Mint Julip, buffet, games and live entertainment) Call for Reservations: (213) 630-5200
Los Angeles Athletic Club, 431 W. 7th Street, Downtown
Find out more details here
.
Venice Garden & Home Tour
10am - 5pm
This annual self-guided walking tour will feature 30 gardens and homes in the charming, secluded Walk Streets neighborhood and streets south of Venice Boulevard. The tour is a showcase of how architects, landscape designers, and homeowners have crafted gardens and homes to make lovely living oases. These private spaces, sequestered behind carved wooden doors, contemporary metal gates and imaginative fences, are open to the public this one day of every year when tour-goers can walk the streets, meet and enjoy the community, and be inspired by the inventive design, surprising spirit and whimsy that is uniquely Venice. $60 in advance / $70 at the door.
Las Doradas Children's Center 804 Broadway, Venice, CA 90291
http://www.venicegardentour.org/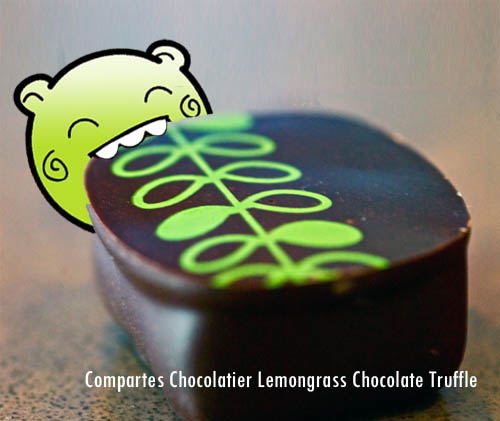 Nom Nom Truck!!
Chocolate and Wine Tasting at Compartes
7pm - 9:30pm
Compartes is hosting a Chocolate & Wine Tasting for Mother's Day! Featuring hand-selected pairings of 4 wines & 4 specially made chocolates, join them for a night to remember at their chocolate factory! For Reservations: Email info [at] compartes.com or via phone at 310.826.3380. Treat Mom to an incredible evening filled with chocolate & wine! Moe's Fine Wines in Brentwood will be on hand to discuss the pairings and pour 4 incredible delicious wines for the event! $18 advance, $20 door.
Compartes Chocolatier, 912 S. Barrington Avenue, Brentwood
http://www.compartes.com/
The Santa Monica Festival
11am - 6pm
Commemorating its twentieth year, the Santa Monica Festival has evolved into a celebration of the unique intersection of art and the environment. Festival-goers can celebrate Mother Earth and all moms this Mother's Day weekend with an eclectic mix of live music and dance, DIY art workshops utilizing recycled and repurposed materials, guilt-free shopping from vendors featuring earth-friendly artistic wares and local resources offered by a variety of City and local non-profit organizations.
Clover Park, 2600 Ocean Park Blvd.
http://arts.smgov.net/festival/SMF2011/index.htm
Free Comic Book Day
all day long!
The day that excites all comic book geeks... it's finally here. Free Comic Book Day is a single day - the first Saturday in May each year - when participating comic book shops across North America and around the world give away comic books absolutely FREE* to anyone who comes into their stores. It's apparently grown by leaps and bounds and is bigger this year than any previous! Check with your local shop for their participation and rules. Find a store near you participating
here
.
http://www.freecomicbookday.com/
Tributefest
11am - 10pm
Indio has Coachella. Chicago has Lollapalooza. Now Santa Clarita will have Tributefest. The innaugural event will bring together 8 tribute bands covering some of the all time best bands, including the Beatles, U2, Journey, Dave Matthews Band, Tom Petty, The Police, Johnny Cash, and Elton John. Each band will perform an hour set, covering top hits from each legendary band. With LA among the only cities in the world with a collection of top tributebands, the event will be a rare opportunity to see the closest performances to the real thing. In addition to the music, Tributefest will include 30 craft beers on tap and dozens of the increasingly popular food trucks as well as award-winning bbq.
Santa Clarita Central Park 27150 Bouquet Canyon Rd. Santa Clarita, CA 91350
http://www.drinkeatplay.com/tributefest/
Dominick's Crawfish Boil
12pm - 4pm
Back by popular demand, Chef Brandon Boudet is drawing on his New Orleans heritage to once again open the patio at Dominick's for Dominick's Annual Crawfish Boil. Every Saturday in May, Chef Boudet will boil 300 lbs. of Louisiana crawfish in a large pot with seasonings such as salt, garlic, and cayenne pepper. Diners can also enjoy a selection of Boudet's New Orleans specialties such as Po' Boys, Crawfish Boiled Artichokes with Remoulade and Dominick's Dago Red and White Wines by the bottle, as well as the regular brunch menu.
Dominicks Restaurant 8715 Beverly Boulevard
http://www.dominicksrestaurant.com/
Sunday, 5/8
It's Mother's Day!
I hope you guys haven't waited this long to make your Mother's Day plans... but in case you're slacking, here are some awesome round-ups from
EaterLA
and
FinerThingsLA
my two go-tos for great deals!