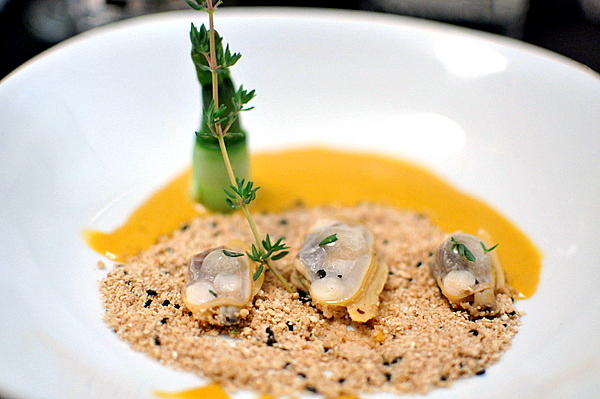 Beautiful Photography from Epicuryan who attended the first Pheast.
THERE IS ONLY ONE THING YOU SHOULD BE DOING THIS WEEKEND, and that is going to the
Hollywood Beer Pong Tournament
Tomorrow. For those of you who haven't been paying attention to my mass email spamming, the tournament is full. But you can still come & cheer on your favorite teams and compete in the
Costume Contest
for baskets o booze & free dinner @ Delphine's in Hollywood!
As for me... I'm part-taking in what sounds like a deliciously bad idea the night before Beer Pong, but I can't turn down an invitation to the
Pheast
, the newest underground supper club to hit the streets. Will post a full review next week!
All Weekend
25th Annual Bug Fair
Saturday & Sunday
In celebration of all things winged and creepy-crawly, the Natural History Museum of Los Angeles County (NHM) will host its 25th annual Bug Fair. The biggest bug festival in North America, this insect extravaganza gives visitors hundreds of things to see and do — including live animal presentations, workshops, crafts, bug chef demonstrations, and back by popular demand, cockroach races. Nearly 70 exhibitors fill the Museum's halls to display and sell thousands of items including live and preserved insect specimens. From books to supplies to insect-related products and art, if it bugs you, it's here.
Natural History Museum | Exposition Park
http://www.nhm.org/site/activities-programs/bug-fair
Saturday, 5/14
1615 North Cahuenga Boulevard
Los Angeles, CA 90028-6201
Maximum 6 teams per company

(it's ok to have less)

Each TEAM is allowed 1 Alternate (for Game Day)

$40 Per Team

covers all table beer as long as you're playing.

There are a limited number of spots (128 teams), once we reach capacity, that's it!

Costumes/Uniforms are

STRONGLY

encouraged
This year we are upping the ante... 128 teams competing for Hollywood Beer Pong glory. There will be 8 brackets, each consisting of 16 teams. Aside from no two teams from the same company competing in the same bracket, all times / positions will be allocated randomly. The winning team from each of the 8 brackets will then move onto the finals.
REGISTRATION
: The tournament is FULL!
GAME DAY:
As we get closer to the tournament, each registered team will receive detailed instructions with regards to the schedule for Game Day, including the brackets which will also be posted to the website.
PRIZES:
We are still working out the details on the prize packages. For up to the minute information you can follow us on Twitter @hollywoodbpong
Sunday, 5/15
Taste of the Eastside at Barnsdall Art Park
1pm to 5pm
Join us in the beautiful Barnsdall hilltop garden for an afternoon filled with amazing food, wine, beer and music. This event will showcase the best of independent restaurants primarily from the neighborhoods of Silver Lake, Echo Park, Atwater, Eagle Rock, Los Feliz, Downtown, and Highland Park. Our taste-size portions let you sample many different restaurants and find new venues for eating out, while each participating restaurant will have the opportunity to provide samples of their signature dishes and discover new customers.
Barnsdall Art Park, 4800 Hollywood Blvd., Los Feliz
;
tasteoftheeastside.com
Looking Forward
On May 21
st
, join us at Level 3 in Hollywood for "a night of creation for a cause we believe in". The
twelfth production of DANCESCAPE will feature
dancers of all ages - from youngins to professional and renowned artists - engaging in contemporary, hip-hop, belly dance, jazz, burlesque, acrobatic, and many more performance styles. All proceeds are used to promote and maintain much needed arts programs in our public school
s
. Support your fellow dancers in generating change,
keeping the arts alive, and simply enjoy
ing
an evening of talent, possibility and transformation! More information and discounted pre-sale tickets are available at www.DancescapeLA.com. Even if you are not able to attend, by purchasing a ticket, you are supporting the cause: 100% of DANCESCAPE proceeds are donated to local classrooms and organizations.