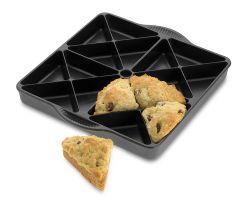 In looking for a holiday treat to bake up for my pre-west hollywood halloween madness, I stumbled across this recipe for
Pumpkin Butterscotch Cookies
on Joy the Baker's blog. My boyfriend started salivating at the thought, and it looked easy enough so I figured I'd give it a try.
But, considering it's me, sans oven, I always have to make small little adjustments. And combine that with the fact that my aunt had just gotten me a delightful scone pan which actually FITS in my toaster oven, I thought I'd give it a whirl. (Also, not technically a scone, more of a soft cookie cake... but the little triangles made them adorable!)
Pumpkin Toffee Scones
2 cups all-purpose flour
1 1/2 teaspoons baking powder
1 teaspoon soda
1/2 teaspoon salt
1 teaspoon ground cinnamon
2 eggs
1 cup sugar
1/2 cup canola or corn oil
1 cup canned pumpkin
1 teaspoon vanilla extract
1 bag Heath Toffee Crumbles
Preheat the oven to 325 degrees F. Butter the insides of your scone pan & set aside.
Stir the flour, baking powder, baking soda, salt and cinnamon together in a medium bowl and set aside. In a large bowl, using an electric mixer on medium speed, beat the eggs and sugar until smooth and lightened in color, about 1 minute. Stop the mixer and scrape the sides of the bowl as needed during mixing. On low speed, mix the oil, pumpkin, and vanilla until blended. Mix in the flour mixture to incorporate it. Mix in the toffee bits.
Scoop the batter into the molds & fill to 2/3 of the way. Bake the scones for about 16 minutes, until the top feels firm and a toothpick inserted in the center comes out clean.
Cool them on a rack & then I served them with some
Kerry & Loni Pumpkin Pie Butter
from Le Gourmet Chef (which I mostly bought because the packaging is adorable) and some freshly made cinnamon whipped cream on top.