Friday August 27th
9PM - It's Miss Kane's Birthday, and as a member of FOKK, I'm obligated to be drinking many a beer with her at the Surly Goat!

Saturday August 28th

10:00AM - I'm demanding my breakfast in bed! Maybe I'll go sleep over at Kristany's house instead. She seems to wake up to gourmet breakfasts every day.

6:30PM - Devil's Night Drive In. Wes Anderson. Rushmore. Rooftops. Downtown. Kristany Dyakostica. It will be awesome. (See below if you have no idea what I'm talking about, but are intrigued enough to investigate & join me)
Sunday August 29th
10AM - Because clearly I'm becoming a Farmer's Market whore... I'm throwing this on my weekend docket. I'd like to think that I'm going to wake up early enough to get some fresh sea urchin... but after an evening out in Downtown with Kristany Dyakostica & his Gay Cowboy lover, I'm not sure how coherent I'll be at 10AM.

All in all, I'm taking it pretty easy this weekend... considering being on antibiotics + lack of alcohol, leave very little to do.


**** Other Fun Happenings In & Around The City ****
All Weekend
Food & Wine's Taste of Beverly Hills
Thursday - Sunday
Sponsored by Food & Wine magazine, the first annual Taste of Beverly Hills is a four-day epicurean event celebrating the worlds of food, wine, art, and music. Designed to intrigue the palate and engage the senses, Beverly Hills residents—and beyond—are encouraged to come out and experience a wine and food event unlike any other...The festival will include food and wine tastings from celebrity chefs and renowned restaurants—both local and from around the country—live cooking demonstrations, wine seminars from Napa's top vintners, live musical performances from award-winning artists, and more.
Discount Tickets on Goldstar: Various Locations
www.thetasteofbeverlyhills.com
Everything Is Terrible! presents Everything Is Festival!
Sat / Sun 7:30pm - on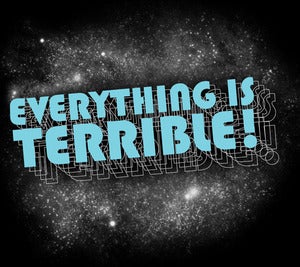 Imagine a weekend where all your fantasies come true. We're talking about the festival to end all film festivals -- Everything Is Festival! For reasons beyond our control, we at Cinefamily are giving the found footage freaks at Everything Is Terrible! free range of the weekend, and letting them do whatever the hell they want. This makes it the official L.A. premiere of their latest mash-up feature-length film, 2Everything 2Terrible 2: Tokyo Drift, not to mention some of EIT!'s favorite movies in their uncut glory, plus dance parties, BBQs, a return of the Cinefamily Found Footage Battle Royal, and top-secret über-rare prints from the vaults of Cinefamily and Austin, TX's famous Alamo Drafthouse! EIT! will also be playing assorted madness from all their favorite pals they've met on their mystical journey: TV Carnage, Waverly Films, Rob Schrab, Black Magic Roller Coaster and tons more! Swag-bags for folks who buy weekend passes! The only thing we ask is to bring along your old friend...Imagination!
Silent Movie Theater - 611 N. Fairfax
www.cinefamily.org
Thursday, 8/26
Hatchi Chef Series: Love & Kisses & BBQ
6pm - 10pm
BREADBAR | Century City welcomes Chicks with Knives for their Hatchi Chef international culinary event, Love & Kisses & BBQ! This selection of 8 plates at 8 dollars each are certain to abide by Chicks with Knives' concept "S.O.L.E."--sustainable, organic, local and ethical--while maintaining the highest quality local ingredients.
Breadbar @ Century City Mall
www.breadbar.net
** Sidebar: To explain this picture. Many of my images come from google search, and Breadbar + Hatchi returns this lovely photo. Thank you Ludo. So I felt it MUST be shared. **
Saturday, 8/28
Devil's Night Drive In: Rushmore
6:30pm doors || 8pm movie
Devil's Night, a Los Angeles production company and radio station, is showing Wes Anderson's RUSHMORE this Saturday night
.
Located on an elevated parking lot downtown, the drive-in offers a needful escape from summer in the city. Patrons have the option of driving in and staying in the car or enjoying the film on Astroturf provided by staff. According to Devil's Night owner Morgan Higby Night, the lot, located on Broadway and Fourth, "has this great feeling of seclusion and a great view of the skyline."
240 W. 4th St. (at Broadway) - 2nd Floor
www.devilsnight.com
Saturdays Off the 405: The Antlers
6pm - 9pm
With a "skyscraping blend of the ambient and the anthemic," the Antlers make music that is at once simple and immense— dream pop with an epic storyline. The critically acclaimed trio crafts its delicately powerful melodies with a fervent, artful earnestness that captivates listeners with lyrical surges, sweeping strings, and starry, sonic layers of postrock. Also performing: Dublab founder, L.A. stalwart, and host of Celsius Drop and KPFK's Future Roots Radio, DJ Frosty is back again, mixing beautifully genre-bending and progressive new music. A cash bar serves Getty-tinis and more, and the Garden Terrace Cafe offers sandwiches, salads, and other nibbles (both until 8:30pm).
Getty Center - 1200 Getty Center Drive
www.getty.edu
Cinespia: Goodfellas
7pm - midnight
Hollywood Forever Cemetery's Saturday night screening is Martin Scorecese's classic, Goodfella's. Gates open at 7pm, film at 8:30pm. $10 donation at the gate & $5 parking.
6000 Santa Monica Blvd.
www.cinespia.org
Sunday, 8/29
Los Angeles Times Celebration of Food & Wine
12pm - 8pm
From the epicurean to those who simply love good food, this all-day event has every ingredient to satisfy your appetite for new twists and classic favorites. Make plans now to join the celebration at Paramount Pictures studios this Labor Day weekend. Featuring the best of the best from the culinary and beverage worlds and touching 6,000+ people, the Los Angeles Times Celebration of Food & Wine is a can't miss event!
Paramount Pictures Studios: Discount Tickets on Goldstar
events.latimes.com/foodandwine
Primetime Emmy Awards!!
5pm - 8pm PST
NBC will broadcast the 62
nd
Primetime Emmy® Awards live coast-to-coast on Sunday, August 29 (5-8 p.m. PT, 8-11 p.m. ET), from NOKIA Theatre L.A. LIVE in downtown Los Angeles. Set your DVRs!!
www.emmys.com