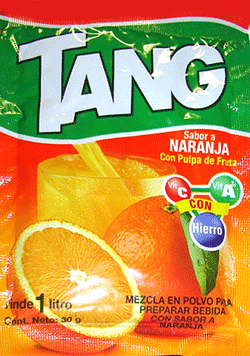 Oh Tang, how much joy you bring to our lives.
Fruity & delicious, you're a jam packed explosion of flavor!
So, I know many of you are wondering... Tang... who uses this stuff anymore? Really? My mixologiest aunt, that's who! She's always coming up with new delicious drink combinations, like hibiscus & lychee martini's, aloe spritzer cocktails, and one of my favorites, the TANG martini.
Jig o vodka, splash o orange juice & a chilled glass rimmed with TANG. It's pretty standard fare, I mean Tang really is just flavored & dyed sugar, no different from a pixie stick or the likes. And certainly more flavorful than those bartender sugars you're overpaying for at the liquor store.
So yes, I had some tang floating around in my cabinets & when challenged with pulling a cake out of my store-room, I figured this would make an excellent addition.
Starting with the same base as pretty much all my Cupcakes...
3.5 cups flour
3 tsp. baking powder
1 tsp. salt
3 sticks of butter, softened
2 cups of sugar
3 eggs
3 tsp. vanilla extract
1.5 cups milk
2 tbs of TANG
1 tbs of fresh squeezed OJ
Mix together well. Fill cupcake tins 2/3 of the way full.
Pre-heat oven to 375 & bake 15-20 minutes.
Tang-y Butter Cream Frosting
1 stick softened butter
1 tbs TANG
2 tsp OJ
1 box powdered sugar
Dash of Orange Food Coloring
Like any basic buttercream, beat the butter until it's light and fluffy. slowly add the powdered sugar, tang, OJ, food coloring and milk until you've reached the consistency and flavor you like.